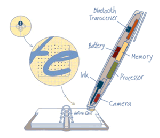 Shareable Ink, the startup that digitizes physicians' handwritten documentation for electronic health records, relocated here from Boston mainly because of Nashville's healthcare-industry concentration, founder-CEO Steve Hau recently told Nashville executives.
On the broader question of whether or not he can build a tech company such as Shareable Ink in Nashville and remain here long-term, Hau said "I would very much like to," adding that he is "not yet convinced." He added, "It's a little bit of a case study: We found five engineers. Can we find 50?"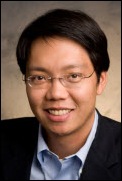 Steve Hau
Hau's candor Sept. 23 in responding to audience questions about Nashville-as-launchpad was faithful to the straight-talk tradition of speakers who address the quarterly breakfast convened by Germain Böer, Ph.D., director of the Owen Entrepreneurship Center of the Owen Graduate School of Management at Vanderbilt University.
"I came to Nashville to make a difference in healthcare. Nashville has all the ingredients for that, except for the engineers" that are essential to building things, Hau told VNC.
Nashville needs now and in quantity top-flight engineering talent, the kind of people who are continually vectoring toward the next challenge, the spot at which they can tackle interesting problems. Right now, that might translate as anything related to the Cloud, he said, adding that Nashville is known as heavy with ".Net" (Microsoft) talent, which is, in his view, a technology "not well-suited" to grappling with the future Cloud. He acknowledged that .Net devotees argue that it has "appropriate tools to scale" to the Cloud.
Many of Hau's comments seem to translate into a pressing need to create a critical mass of superior engineering talent that can be virtually, if not literally under one roof in Nashville, close enough to network, spark ideas and encourage one another onward to address tough engineering problems. He made clear he's thinking-through the matter with others and is likely to take some collaborative action, at some point.
Hau's mission at the Böer breakfast was to share lessons learned in the course of several startups. Hau, a native of the San Francisco Bay Area, extolled Nashville's strong sense of community, its pro-venture ethos and its "amazingly high density" of entrepreneurs and entrepreneurial infrastructure, including such groups as Nashville Capital Network, Nashville Health Care Council, the Nashville Area Chamber of Commerce, the Nashville Technology Council and the Nashville Entrepreneur Center.
He jokingly sprinkled his remarks with references to skepticism and largely unfounded stereotypes about Nashville that are still held by some of his friends and colleagues in the Boston area.
Hau, age 39, and his company are oft-cited by area boosters as hard evidence of Nashville's growing entrepreneurial traction. Shareable Ink has since its 2008 inception attracted $6.5 million in total investment by A-round participants, founders and other individual investors, Hau told VNC in interviews.
Shareable Ink in 2010 announced receiving investment from (TNInvestco) Tennessee Angel Fund, Nashville Capital Network Angel Fund, The Martin Companies, Founder Collective and Heritage Group Holdings, as well as from individual investors Chip Linehand, David McLellan and Hal Andrews.
Shareable Ink may well double its 20-person workforce before 2013, he said. Moreover, though it's early in the game, when asked Hau said he does not rule-out an eventual IPO. One of Hau's previous ventures, PatientKeeper, has raised more than $90 million in private capital from at least eight VC's and it is frequently described as "pre-IPO." The holder of degrees in electronic engineering and computer science from MIT, Hau exited his Ph.D. studies at Harvard to co-found PatientKeeper.
Asked about remedies, Hau said at its core the challenge for Nashville is to have "more interesting innovative jobs, using the right technology that engineers are excited about." That, he said, will help attract or retain the topmost engineering talent that is vital to interesting and potentially important technology companies. Overall, he continued, "we need more people who are excited about technology" and "more technology talent" -- "that's my biggest complaint," he added.
"World-class" engineers are essential; and, while he singled-out Vanderbilt University as producing the requisite engineering talent, he said it is his understanding that most VU School of Engineering (VUSE) grads take jobs elsewhere after graduation. (Related earlier story re a VUSE faculty member's concerns.)
Hau's energy seem to grow as he explained that he and others recently participated in a VUSE career fair for engineering students. "I'll tell you, that career fair was filled with companies trying to recruit Vanderbilt engineers and there were only a handful of companies, including Shareable Ink, that were trying to keep those engineers in Nashville. Nashville is producing great engineers. You just have to keep them here after graduation," he added.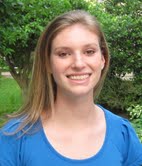 Kate Kerbel
VUSE Senior Kate Kerbel, who hails from Columbia, Md., told VNC that, particularly in the current environment, graduating engineers are mainly interested in landing a challenging job. She said she senses that many recruiters who target the VUSE student population are recruiting for jobs in Texas and elsewhere; and, the fact that many VUSE students come from other regions that are more densely populated with corporate headquarters and stronger tech reputations may sometime simply preempt thought of remaining in Tennessee.
Kerbel seemed to reflect on the issue, then added, "a lot of people definitely want to stay in Nashville." Pondering still, she said she has a sense that "Nashville is pretty...sort of innovative or willing to try new things," and has every amenity or asset a young professional needs, except perhaps a tech- or engineering-centric reputation or proximity to larger urban areas, in which there may be a greater sense of the possibility of a career-long series of employment opportunities. Then, as she seemed to work her way through a logic pro Nashville, Kerbel, herself a clarinetist, said that while she's "not, like, 'in love' with Country music," the city's music scene is diverse and first-rate performers appear here in venues both large and intimate, with remarkable frequency. "The Symphony is great," she added.

James Fields
Interviews with local executives make clear there's strong demand for higher-quality talent in the IT services domain, as well. For example, Concept Technology founder and CEO James Fields recently told VNC he had more than 800 applications for a single opening in his firm and counted himself lucky to find one highly qualified person, whom he hired. Finding truly proficient network administrators in Nashville is next-to-impossible, said Fields, who added that he's begun targeting highly talented pro's who are already employed. The situation gets worse, he said, each time a new company with broad IT staffing requirements relocates to Middle Tennessee. "They bring 100 IT jobs and NO IT people," he said.
Liz Massey
Liza Massey, who was very recently recruited to lead the Nashville Technology Council, told VNC in a brief interview that it's apparent to her that, among other things, "we need to make sure Nashville doesn't become a victim of its own success." She added that "one of my priorities" is mobilizing existing engineers and others to help recruit talented individuals from others markets, while continuing to push NTC's existing "T3" tech-education initiative.
Massey expressed confidence that if more is done to raise awareness in other markets regarding Nashville's appealing software and IT jobs, and the region's extraordinary quality of life, gains will follow. "I just don't think [we're] getting the word out," she said. NTC recently issued data indicating that efforts by NTC and others may be reducing tech job vacancies in the market, but Massey said she needs to put metrics in-place to verify the correlation between effort and effects. "Right now, our measures are mostly anecdotal," she said.
MTSU Business and Economic Research Center associate director Murat Arik, Ph.D., told VNC that a thorough analysis of the issue is needed. He noted that recent startup formation and venture investments may be exacerbating the situation, and he is aware "that some major established companies are initiating recruitment trips to other states to fill the certain technical jobs because of the shortages of qualified workforce in the region. However, any targeted effort [such as NTC's] to help ease the problem in this area would be likely to result in some positive results." Arik said he hopes to address the matter within the next 12 months.
VUSE Dean Kenneth Galloway, Ph.D., was not available for comment for this story. In a recent op-ed piece published by The Tennessean, Galloway said, in part, "Tennessee is a net exporter of engineering talent. In general, the states that are net importers of engineering talent have a more dynamic economy than we do. We should strive to attract knowledge-based industry to Tennessee in order to retain more of the exceptional talent that leaves the state." Galloway noted that 1,100 students graduate annually with engineering degrees in Tennessee, with 75 percent of those emerging from the University of Tennessee-Knoxville, Tennessee Tech and Vanderbilt University.
More than 80 Owen alumni and friends attended Hau's Sept. 23 presentation. The invitation-only event was underwritten by Century II. VNC