A few days ago, Chris Savoie stood at a microphone in a local hotel ballroom and asked a question clearly out of step with conventional wisdom.
The occasion was a panel discussion on early- and growth-stage companies, organized by the Nashville Health Care Council and Nashville Capital Network.

Few listeners would have suspected Savoie has previously created and sold bio and tech companies in the U.S. and Japan, is an advisor to a new private-equity fund, and is creating another tech firm in nearby Franklin.


Revealing nothing of his prior successes, the youthful Savoie politely asked the panelists to help him understand how his startup, which he didn't name, could pay top-notch executives as much as $200,000 per year each when necessary, given that VCs are offering relatively small investments, against ultra-low valuations.

After a moment's silence, the panelists essentially replied that when you have revenue and profits sufficient to justify such compensation, then fine; otherwise, those executives should be have more skin in the game - which presumably translates into constant pressure and compensation largely deferred.

Panelist and First Avenue Partners Managing Partner David Wilds punctuated the brief exchange: It's a given, he said, that

investors and entrepreneurs, alike, tend to wake up in the middle of the night worrying about things, and he prefers to think of an executive in a startup in his portfolio "waking-up thinking about his company, not his vacation."

Savoie later explained to VNC that he well understands the argument and acknowledged that in this environment growth is hard to achieve, even for profitable companies. Still, he said he wonders whether it's really best for new ventures to employ such a "paradigm."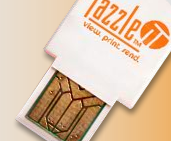 As it turns out, it's the sort of question 38-year-old Savoie must confront as CEO of Tazzle Inc., a Franklin start-up in which revenue has recently begun to flow from proprietary technology.

Tazzle's wireless device enables Blackberry users to dispense with their computer-synch cords and transfer securely attachments, photos and other data from their handheld device to a PC or printer. No data is stored on the device, so if it's lost, no data is vulnerable to compromise.

Equally important in the longer term, Savoie told VNC that after it is established in general corporate and consumer markets, the firm is likely to focus on specific sectors, particularly healthcare, where the push is on to make health data both secure and shareable.

The startup is financed by Savoie and a half-dozen other accredited investors in the U.S. and abroad, he said, and he has no plans to recruit outside capital. He declined to provide financial details. The company has four executives aboard, and its manufacturing is done in Tokyo.



Savoie is also a venture advisor associated with 18-month-old Orion Healthcare Equity Partners, which is raising a $250 million fund to pursue clinical-stage companies in the U.S. or Europe, and which has offices in Boston and London.

Savoie is a Warwick, R.I., native and a transplant to Middle Tennessee who, in the finest local business tradition, married a Nashvillian and relocated to Middle Tennessee.

He's crossed the cultural barrier before: After graduating from the University of Rhode Island in 1992, with a bachelor's in biology, he spent seven years in Japan at Kyushu University, where he earned both M.D. and Ph.D. in medicine and immunology, helped along by his Japanese fluency (a 10-year-old MIT Technology Review item says Savoie also speaks French, Spanish and Lithuanian).

Savoie explained that it was during his medical studies that he learned he was a hypochondriac who was not comfortable dealing with the sick.


Finding himself in that awkward situation, he began to focus on technology, at first doing Web projects for friends, but "got bored of doing it for free for everyone" and founded two Web-oriented firms in Japan, Atmark and Webula.

He then moved onto bigger things, creating Dejima Inc., which invented natural-language processing to enable users to talk to their computers, before it was acquired by Sybase; and, launching GNI Ltd., a clinical-stage bio-pharma company that became both a Deloitte Fast 50 company and a Red Herring Top 100 company. Inevitably, Savoie has never practiced medicine.

Savoie told VNC that his company, which was officially formed this year after two years' development work, will soon roll-out a Tazzle version to support the Android wireless phone, widely considered a potentially strong competitor to iPhone, Pre and Blackberry.

The new company is marketed as Tazzle IT, a brand that's intended to emphasize its value to information technology executives who are tasked with supporting mobile computing, and with protecting corporate and consumer data.



Savoie said Tazzle is exploring alliances with health technology companies, in order to support secure wireless transfer of data within electronic medical records systems. In like manner, Tazzle will tackle other verticals. In addition, Savoie said the Tazzle is to be an upgradable product, with one planned enhancement allowing users to transfer their contacts and address files directly into a spreadsheet.

The company is targeting both consumers and corporations, with a typical target market being corporate headquarters and law firms, particularly those in California, where the founders originally worked.

Tazzle outsources most professional services, at this stage: Nashville based Sherrard & Roe handles corporate legal matters, with San Francisco-based Orrick Herrington & Sutcliffe handling intellectual property. Accounting is done by CFOServices, and Fifth Third provides merchant-banking services.

Tazzle also maintains a strong working relationship with tech-market analyst Chris Shipley of the Guidewire Group. Shipley is executive producer of the DEMO Conferences, a major watering-hole for venture technologists. For more background on Tuesday's NHCC-NCN panel, please visit here. ♦

Related Articles