CEO Charlie Brock often has occasion to speak with confidence of clearcut gains and future economic upside that are often associated with LaunchTN initiatives.
But, when it comes to Tech Transfer, which many regard as the source of much of the nation's wealth, sometimes that's harder to do.
During a LaunchTN board meeting earlier this year, Brock dutifully reported that Tech Transfer has not yet achieved traction needed to "move the needle," and that he would keep the board posted as he sought an answer to that, as previously reported by VNC.
Earlier today, Brock, who'd just returned from the startup campaign trail with The TENN accelerator companies, and now faces the very public challenge of executing the 36|86 Conference in June, took precious time to answer questions about tech-transfer, telling VNC he actually feels "excited and optimistic about what's going on in commercialization" in Tennessee.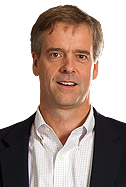 Charlie Brock
Bolstering his case, Brock cited examples of startups that are making their way through the tech-commercialization gates with help of LaunchTN programs; and, he noted that the organization's partnerships with other actors in the ecosystem produce results that are, in effect, more networked and less concentrated than in the hands of a single actor.
"Getting inventions out of the research facilities into the hands of entrepreneurs is time-consuming and we don't hold all the cards, so sometimes it can feel like the wheels are grinding," said Brock, who became CEO in January 2013.
While he'd like to be showing more dramatic progress, the "slower process" of tech-transfer makes that much harder to achieve, he said.
Asked his thoughts on the status of the Tech Transfer program in the context of LaunchTN's state charter, Brock said he has no plans to seek any change in LaunchTN's charter, and emphasized that we should keep in mind that LaunchTN's mission had been greatly expanded in mid-2012.
He was apparently alluding to the point at which the Administration of Gov. Bill Haslam assigned LaunchTN responsibility for administration of the State's INCITE co-investment program and supporting nine new regional accelerators, and accorded LaunchTN more resources for those purposes. (Truth is, during the transition from former Gov. Bredesen to Gov. Haslam, tensions were at times so fierce between LaunchTN and its patron, State Economic and Community Development, or ECD, that LaunchTN sometimes seemed likely to expire entirely before peace could be restored.)
Mid-2012 is also roughly the point at which the Haslam Administration's interest in attracting capital to Tennessee sharply ramped-up. The potential for attracting more capital had not long before been freshly illuminated by the launch of the state's TNInvestco program, which injected more than $140MM into the venture-investment ecosystem.
Time will tell, but the State's entrepreneurial Big Bang thus far seems to have been a good thing, given the state's well documented underdevelopment on the capital front.
However, the Big Bang may also have inadvertently contributed to quietly shifting LaunchTN's focus from Tech Transfer and Commercialization farther downstream, toward emphasis on entrepreneurship and the funding, thereof.
So, today, the grinding that Brock may be hearing from deep within his agency's smallish Tech Transfer and Commercialization program could signal a need for more lubricant, in the form of staff and money; or, it could be that it's time to park the program, entirely -- or, none of the above. It may take a scientist to figure it all out.
Meanwhile, Brock pointed-out today that he believes "LaunchTN is just one of the organizations that can assist with commercialization and we are working very well with other statewide entities to have an impact."
As examples, he listed Life Science Tennessee -- which is leading a legislative effort that would also benefit LaunchTN; and, the University of Tennessee Center for Industrial Services (CIS).
Moreover, Brock said, LaunchTN's ReversePitch program, in which corporations declare their technology challenges and invite entrepreneurs with specialized knowledge to propose solutions, is just one of a number of LaunchTN programs that can indirectly produce tech-commercialization benefits.
LaunchTN got high marks for applying its energies toward entrepreneurship and capital formation, among most of a half-dozen constituents interviewed on background for this story.
Yet, the majority of those same sources indicated they believe Tennessee should do more to strengthen its tech transfer efforts, in part to be more competitive in vying with other states for federal funds for innovation and tech-transfer (SBIR/STTR).
One source noted they suspect that dedicating more resources to entrepreneurial events and promotions may have to some extent trivialized LaunchTN's role in Tennessee's tech-based economic development, at a time when universities, in particular, need help connecting their scientists with investors. Another said LaunchTN today is essentially "a Master Accelerator," thereby impinging on the roles of some of the regional accelerators, while devoting too little energy to tech transfer and related matters.
Said one, LaunchTN "should do for scientists what we've done for entrepreneurs in Tennessee."
While some scientists have strongly communicated their desire for more engagement with the private sector, VNC interviews at higher campus levels have left only modest room for hope for greater institutional collaboration and engagement.
LaunchTN, which is officially Tennessee Technology Development Corporation (TTDC), was created by a 1997 law. It began operations in 1999, and has since then labored to fulfill all facets of its mandated mission, which by law spans tech transfer and commercialization, support of entrepreneurship and capital formation.
To many observers, Tech Transfer and Commercialization is, inevitably, the gnarliest part of LaunchTN's mission, as well as possibly the part with least traction, at the moment.
Clear enough, though, is the fact that in Tennessee law (TCA § 4-14-304), LaunchTN's mandate is "to contribute to the strengthening of the economy of the state through the development of science and technology, and to promote the development of Tennessee businesses by supporting the transfer of science, technology, and quality improvement methods to private and public enterprises..."
Specifically, according to Tennessee law served up today by LexisNexis, the nonprofit organization is directed to perform these functions:
"(1) Assist in evaluating statewide innovation capacity as measured by new technology business starts, research disclosure and patent generation, venture capital availability and investment, public and private research and development expenditures, and research commercialization efforts;
(2) Assist in the development, attraction and retention of diverse high skill and high wage jobs in Tennessee and attract prominent leaders in industry, research and education to Tennessee, ensuring the talent exists within Tennessee to foster innovation;
(3) Support and improve technology transfer and commercialization mechanisms from research organizations, universities and businesses;
(4) Increase the availability of capital to perform applied research, develop technology and stimulate new technology business creation and growth in Tennessee;
(5) Assist in the development of physical infrastructure required for a technology and innovation driven economy;
(6) Stimulate entrepreneurship and create an entrepreneurial culture in Tennessee;
(7) Assist in establishing cooperative and collaborative associations between universities, research organizations, and private enterprises in Tennessee for the purpose of coordinating research and development programs that will aid in the creation of new products, services and jobs in Tennessee; and
(8) Provide financial assistance through contracts, grants and loans to programs of scientific and technological research and development." VNC
---