NASHVILLE-based inventor, U.S. Navy veteran and entrepreneur Robert Adams says the owners of his multi-modal human biometric identification startup have thus far declined investment on terms from VCs.
The company -- registered in Delaware 13 months ago as YouaretheID LLC, dba Global e-dentity™ -- says in its recent trademark filing that it provides "user authentication services using biometric hardware and software technology for online access, physical access for e-commerce transactions."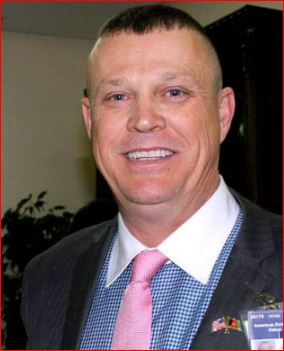 Robert Adams

Co-Founder, Inventor
Adams, who is co-founder and majority owner of the company, said that about $3MM Seed and founder's capital has previously been invested in the business by him and by a strategic minority investor he declined to identify, but which he said has an option to purchase more stock and is based in the nation's capital.
Adams said that while the owners are quite interested in talking with institutional and-or strategic investors who have demonstrated they have strong sector experience, the startup's funding is adequate, currently.
Next year, the company plans to pursue a Series A capital raise targeting $38MM for a minority share of the company, Adams told Venture Nashville.
He explained that during 1Q 2019, his team will begin commercially deploying its technology for several customers and will begin booking revenue -- with an eye toward becoming "recurring revenue-positive" before year-end.
At the outset, the primary component of the company's business model is charging $1.00 per digital Universal ID (U.I.D.™) per year.
Edgar Rabano
Adams' Co-Founder and CFO, Edgar Rabano, is based in Tuscon.
Both Adams and Rabano have extensive international experience in support of governmental and non-governmental (NGO), as well as defense/military and commercial interests.
The company's latest phase of rigorous vetting of its U.I.D. product incorporates guidance from key prospective users, Adams said. By way of example, he added that the U.S. Department of Homeland Security (DHS) is among prospective customers with whom the company is in discussions.
The company's 3-D imaging solution uses near-infrared (NIR) and ultrasound technologies to establish unique patterns and spatial relationships of subcutaneous vascular structures associated with a given individual, as well as distinctive features and patterns on small portions of the surfaces of bones in living subjects. Its technology can be integrated or paired with an array of existing systems used for multi-factor authentication of identity, said Adams.
In addition to its creation of its U.I.D.™ for individuals, its technology provides two forms of proof of life within the body part presented as identification: blood flow and heartbeat. Biometric data it collects is run against its secure artificial intelligence database, maintained within a permissioned distributed ledger with military-grade blockchain security. A video orientation is here.
Persistent vulnerability to cyberbreaches annually represent hundreds of billions of dollars worth of damage to national economies, globally.
Further, conventional identification documents -- including SSAN, drivers licenses, passports, boarding passes, etc. -- as well as fingerprints, and systems for recognizing iris, facial and vein structures have frequently proven inadequate, Adams said.
Though Global e-dentity's priority market is users of automated individual biometric identification of individuals, Adams said the company readily acknowledges its longer-term interest in Healthcare, Agriculture, Financial Services (e.g., online and mobile banking, shopping or payments) and other verticals.
In the Healthcare context, the U.I.D. would facilitate ready access to electronic medical records by both patients and providers. The tech system also has some capability for detecting certain harbingers of diabetes and some other illnesses and conditions.
Asked about competitors, Adams said that the Aadhaar authentication services backed by the government of India seek to address an array of issues, but, in his view, Aadhaar does not have the advantages of the U.I.D™.
Adams said he and-or future investors will select the company's first professional CEO. Adams has spoken publicly since 2016 about his on-going personal battle with cancer, and he was equally direct throughout a series of interviews for this story.
Though his team and advisors are now widely dispersed, Adams said plans now call for the Nashville area to be the company's headquarters. Global e-dentity now has 12 team members. It projects adding 10 FTE team members in 2019, said Adams.
Currently, Global e-dentity team members are stationed in Franklin near Nashville, as well as in and around Chicago, Tuscon, Bahrain, and California's Costa Mesa and Cupertino, among other cities.
Adams said organic growth of domestic and international revenues are likely to obviate the need for a Series B raise.
He said he believes organic growth could enable the company to continue ramping toward an initial public offering of stock, which he said is the only form of exit he and his co-founder now have in mind.
Adams indicated that his confidence in the company was heightened by the fact that the U.S Patent & Trademark Office recently granted his complex core patent (10135822) just 292 days after Global e-dentity made its patent application. The company had filed a request for accelerated patent review.
He noted that the company has a larger intellectual property estate from which it intends to seek patents that will be monetized.
Earlier in his career, Adams served in an array of diplomatic, business development and technology roles with OTG Group PLC for its Middle East, North Africa- and Cayman-based operations; and, he was based in Irvine with two firms, Linksys and Optima Technology (data storage media, harware). In the span of nearly a decade, he also served with the U.S. Navy in operations security, supply and logistics technology roles. At another point, he served as
According to his LinkedIn and Crunchbase profiles, Adams holds an MBA from the University of Southern California.
The 55-year-old founder is a native of Newport Beach, Calif. He moved from there to Nashville in 2006.
Partly because the company has rapidly directed most of its energy toward ensuring that its product offering is market- and customer-ready, Adams said he has made only limited efforts to find Nashville-area allies and advisors, and his team is little involved in the Mid-South tech-startup entrepreneurial ecosystem.
Instead, he has relied on his far-flung personal network to quickly enlist both team members and outside advisors.
Adams said Global e-dentity currently relies on San Jose-based patent attorney Dorian Cartwright; and, on an Atlanta-based advisor he has known 20 years, William Shawn Yeager. Yeager is the Atlanta-based CEO of PRIMA Cinema, as well as a member of the State Bar of Georgia.
Louis Buck
Adams said he also recently enlisted the support of Louis Buck, a consultant in agribusiness, alternative energy, domestic and international economic development and related fields. Buck is based in Powell, Tenn. near Knoxville.
The company's permissioned distributed ledger (blockchain) and its database design and development and related work have been facilitated by outside advisor Pekka Ollikainen, with an independent group of developers in Finland.
The company banks with Citibank (Tuscon branch). Its investor/PR content development is handled by Mountainview-based Donna Griffit. The company's web development work has been done by Singapore-based Adrian Heng of Realisma.
Most recently, its animated video production has been outsourced to Patrick Pawlowski of Patanimation of Warsaw, Poland. VNC

. last edited 1000 29 nov 18
---