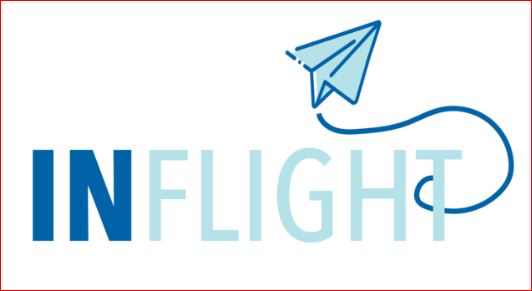 TOMORROW evening, March 21, seventeen Nashville-area startups will report their progress, five months into their InFlight experience with the Nashville Entrepreneur Center (EC).
The 12-month InFlight program is designed to accelerate growth and development of early-stage startups, partly by assisting each team in establishing needed infrastructure and surmounting obstacles they individually confront.
Now, we get to see what they're currently made of, and learn the business outcomes they seek.
The program begins 5 p.m. March 21: Here's the lineup:
Airvel LLC (Transportation, Nashville) -- Joe Plowman (at left) who holds a 2014 VU Owen GSM MBA, bears the CEO title. An online booking engine for on-demand private air charter, serving air-charter customers and air carriers. Initially registered in Tennessee in 2015, later dubbed MyAerospace LLC. Registered as Airvel in Delaware in November 2018.
Betafits Inc. (Consulting, Nashville) -- Co-founder and President Matthew Prisco tech-enabled employee benefits consulting firm targeting SMBs. Apparently registered in Delaware, 2015.
BetterBookClub LLC (Workforce, Nashville) -- Founder-President Arnie Malham (at left). Registered Tennessee, 2013. An app that encourages customized employee training and development via spurring and tracking reading, sharing recommendations and more. Built on lessons learned from applying similar techniques in business since 2006.
Doyenne360 LLC (Workforce, Nashville and Memphis) -- Founder-CEO Kristian Kimbro Rickard (at right). Creator of STEMNXT, described as an AI-driven workforce development and job matching platform for organizations recruiting for STEM jobs.
EnunC8 LLC (Workforce, Nashville) -- Founder-CEO Julia Zay (at left). The company offers a web-based application designed for overseas call centers, to help users learn to speak American English with improved clarity, allowing for communications between call center agents and customers.
Evozen Wealth LLC (Workforce, Franklin) -- Managing Member, CEO Julie Pinkerton (at right). Its Plan (D)ream financial planning software is made to help fiduciary financial planners better serve clients overall, with particular attention to the "needs of women, LGBTQ and ethnic clients."
Knowledge Bank Solutions LLC -- (nonprofit social enterprise, financial education, Nashville) Chief Exec Courtney Hale (at left) MBA Lipscomb University, bachelor's Finance at Tennessee State University. Board members include Turney Stevens, Dean Emeritus, Lipscomb College of Business.
Noka Supply Co -- (consumer selfcare accessories, Nashville) Lauren Egge (at right). Related 2018 Venture Nashville coverage here. Egge is also an alumna of the EC's PreFlight program. Egge holds a Stanford University engineering degree and is currently a mentor via the Vanderbilt University Wond'ry innovation center.
Nodat Place Advertising LLC -- (marcom/engagement platform, Nashville) Managing Member Aireka Harvell (at left) Registered TN, 2017.
NPI Dashboard (healthcare licensing, referral leakage, other data; Nashville) -- Brian Tatro (at right) is president of parent Medical Schedule Inc. Monitoring of professional licensure and other data of interest to providers, payers, M&A parties for diligence, etc.
Possip Inc. (education technology, Nashville) -- Shani Dowell (at left) is CEO. Earlier VentureNashville coverage is here.
Relationary Marketing LLC (podcast content marcom, Nashville) -- Co-Founder and Chief Creative Officer Clark Buckner (at right) Buckner doubles-in-brass as the Nashville EC's digital-assets projects lead.
River Queen Voyages (River Queen Productions LLC): (recreation, tourism; Nashville) -- Owner Annie Klaver (at left). Services including kayaking on the Cumberland River. Klaver has previously worked with StudioNow, AOL, echomusic.
SpecApp (hospitality, cocktail bar/menu management, mobile) -- Founder Marcus Baney (New Day Enterprises LLC).
Sunny Care Services LLC (project services) -- Founder Mollie Lacher outsourcing admin/projects, with emphasis on support of bereaved survivors following death of another.
We Should Write Sometime LLC (creative technology, geo-selective cowriting, left/right swipe) -- Co-founders Richard Casper (U.S. Army, CW4 Ret.) of the Chicago area and Kevin McCarty, originally of Cincinnati.
With the Band LLC (Consumer engagement, music) -- Founder/CEO Sarah Beth Perry (at left). Earlier Venture Nashville coverage here. WTB is meant to be a place where fans collaborate to create an inclusive community around their favorite artists.
According to the EC website, companies accepted for InFlight are most likely to have full-time founders, with annualized revenue no more than $150K.
However, EC staff confirmed for VNC that some of the companies had already passed the upper revenue milestone prior to entering InFlight, but were enrolled because EC staff were confident they could add significant further value for those particular businesses. Ultimately, the mix will vary a bit by cohort, with staff evaluating candidates with an eye toward ensuring that the EC fulfills or surpasses their clients' value expectations.
Two companies announced last fall as part of the current cohort are no longer participating: Roofing Corporation of America (Eric Cromwell, who is said to be exploring another business opportunity); and, Online Donations (Byron Brewer), both of the Nashville area. VNC
. Last edited 0820 21 March 2019
---