Updated 2 March 2020: Hytch announced new transport partnership with City of South Bend, of which Pete Buttigieg is mayor. Hytch earlier announced adoption within San Francisco, Seattle and other metros. Our 9/12/18 origins report is below.-Ed.
HYTCH LLC CEO Mark Cleveland was smiling last Thursday as he briskly entered the conference room of Center 615 in East Nashville, which he'd reserved to interview for this story.
Moments later, he escorted a visiting reporter down the hall to the brightly lighted open workroom he shares with his startup team. Hellos and handshakes all 'round, then back down the hall to the conference table.
There, he smoothly finished a breakfast nosh and prepared to describe the company's national market activation, a Series A capital raise, and the launch of the Hytch Token via a blockchain-powered distributed ledger.
The social-impact technology company's Hytch Rewards platform is used to enlist and reward individuals for ride-sharing and other sustainable transit behavior that is intended to reduce vehicular carbon emissions.
The app for iOS/Android is free to users. Hytch revenue streams have thus far included a grant from Tennessee Department of Transportation to support marketing, as well as platform fees and consulting revenue earned in service to participating employers and marketing sponsors. Future plans include enabling organizations that voluntarily support reduction of carbon emissions to purchase transferable carbon-emission credits to meet sustainability goals.
As he settled-in for last week's interview, Cleveland said that just 48 hours earlier Hytch and many other Azure users in the south-central U.S. had suffered a sudden shutdown of cloud-based operations as the result of a Microsoft Azure outage, which the tech giant attributed to severe weather affecting its San Antonio data center.
Once recovered from such a blow, many entrepreneurs might well have blamed the outage of Sept. 4 as an isolated force majeure event or perhaps fresh evidence of the growing risks associated with operating data centers amid global climate change.
Instead, within hours of the outage Cleveland posted for Hytch users his gut-level promise to redouble readiness for such contingencies, flatly stating that he had "failed to prepare us for the unthinkable," and vowing, "We will learn from this and be better tomorrow."
Asked two days later whether he'd rested well the night before the VNC interview, Cleveland estimated he'd gotten maybe two hours sleep. While Hytch Rewards was back up not long after the Azure outage, the team focused much longer on testing, customer outreach and vigilance.
Overall, the 55-year-old serial entrepreneur's comments suggested the outage represented Hytch's baptism of fire, in which the startup demonstrated its resilience and accountability.
As a practical matter, the Azure crisis seemed to have signaled the startup's de facto graduation from "beta" status.
The abrupt outage also seemed to validate further Hytch's decision earlier this year to establish a second Microsoft data-center presence (in Seattle). Though assuring regional quality of app service in the West was the original motivation for taking that step, the added infrastructure should also mean greater fail-over capacity.
Between the Hytch Rewards app's formal launch in January this year and last week's Labor Day, the Hytch Rewards app had earned about 7,800 downloads, most of them executed in the Nashville region. In a followup today, Cleveland said the Azure data-center interruption produced no loss in the Hytch user base.
Sponsors of Hytch are typically aiming to build relationships with individual Hytch users in order to incentivize workers, burnish consumer-facing brands, and support innovative solutions in both mobility and environmental preservation, Cleveland explained.
Consumers who use Hytch across participating modes of transportation -- from ride sharing to mass transit -- can not only ensure their shared trips are carbon neutral, and steadily increasing numbers of riders will be able to take rewards in cash.
Hytch's locally based employer or brand sponsors include Nissan, Goodwill Industries, Lipscomb University, Sprint, Nashville Predators, Reliant Bank, Franklin Synergy Bank and others. Metro Nashville's WeGo Public Transit (MTA) is among the growing ranks of its marketing partners.
Such support seems to signal wide and possibly growing interest in reducing commuters' carbon footprints, reducing transit congestion, averting wasted infrastructure spending, improving and preserving air quality -- all while, as Cleveland told VNC, "making a market out of the good deeds of those who share rides."
The company is now intent on enlisting individual app users as "Hytch Heroes" throughout the Fifty States, said Cleveland.
Priority expansion markets currently include the Bay Area, Seattle, Phoenix, Denver and other "environmentally aware" cities within nation's Top 25 metro areas, a group that represents what Cleveland referred to as the "Yellow Brick Road" for the company's growth.
Hytch's national push builds off its foundational experience here in the Nashville market, said Cleveland, who is a longtime Nashville-area resident and a native of legendarily "aware" Portland, Ore.
Turning to the issue of capital, Cleveland said no target range has been established for the Series A, and early conversations with VCs have been held "mainly outside of Nashville."
Asked whether he had considered taking the initial coin offering (ICO) route for raising capital, Cleveland told VNC that he sees an ICO bringing little, if any added value to Hytch, which has validated its business model and initial user acceptance, and has established revenue streams.
Asked about self-funding the next growth phase, Cleveland said that the company and its model have first-mover advantage, but once key players awaken to the scope of the opportunity, "there's going to be a footrace."
He said that in such circumstances, a startup can bide its time and risk "hitting the wall at 200 m.p.h." or pursue a disciplined capital raise with wise valuation and smart investors, in order to fund a team with deep talent, a strong platform and market insights continually refined in the course of rollout and beyond.
He said his confidence and that of his investors is based on knowing that Hytch is focused on "the right problem at the right time, with the right message and strategy -- and, above all, with the right people."
Also underway: Hytch's own distributed ledger token is being developed under agreement with CO2KN Inc., the Delaware-chartered and largely NY City-based startup with which Hytch cross-invests, Cleveland said.
Hytch riders now accumulate "Trees" as they use the Hytch app, but those trees will eventually become Hytch Tokens that can be stored in cryptocurrency wallets. Related release here.
Notably, CO2KN has for a year or more been building a carbon-negative public-permissioned blockchain and ecosystem to incentivize conservation efforts via carbon sequestration, offset or credit trading and voluntary retirement of credits. Its C4Coin's token-genesis event is set to go-live Sept. 18. Cleveland said CO2KN's blockchain will go live by the end of this year. C4Coin lite whitepaper here.
Cleveland said Hytch LLC is well advised: The company's law firm is Waller Lansden. Also, Dana Holmes of 2nd Generation Capital supports securities transactions.
In addition, Jim Phillips of XMI Capital leads Hytch's administration and finance functions. Hytch banks with First Tennessee and assigns PR to the Indianapolis-based Dittoe agency.
John Bernard
Members of the Hytch team also include COO John Bernard, a Portland-based senior operations executive and well established author of management/culture books, as well as a friend and longtime advisor to Cleveland; and, its Charlotte, N.C.-based VP-Business Development Michael Jackson, a veteran of management Western Star Trucks and Daimler Trucks, PACCAR and other corporations and, by the way, an alumnus of Tennessee Tech in nearby Cookeville, Tenn.
Cleveland, himself, presided over business units with numerous tech deployments earlier in his career. However, he said Hytch's technology maturation, including its platform refresh in 2016-17 and the launch of its new app in January this year, were direct results of contributions from tech advisors who have included Alex Poston and Shawn Chapman, whose work has positioned the company for its multifront campaign, now unfolding.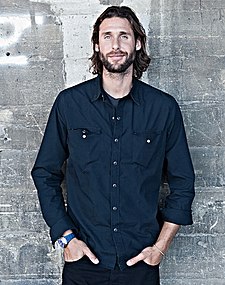 David de Rothschild
The CEO said he owns a majority of Hytch LLC's equity. Other owners whom he disclosed include Los Angeles-based David de Rothschild; Nashville-based XMi Growth and InCrowd Capital; and, as recently announced, the Launch Tennessee (TTDC) Impact Fund, which invested $150K on the basis of a partial match with other investors. The Impact Fund's rules require that upon selection each portfolio company be generating less than $1MM annual revenue and have Seed or Series A raise underway.
In 2014, Hytch was co-founded by Robert Hartline, whose startup interests now include Nashville-based Call Proof.
Prior to taking the reins at Hytch in 2015, Cleveland was best known in local entrepreneurship circles as CEO of Brentwood-based high-performance and medical-compression sockmaker Swiftwick (dba for Elicit Brands LLC). Though Cleveland retired from Swiftwick in 2014, he told VNC he still votes the largest block of shares held in the company.
In addition, earlier this year Cleveland sold his formerly Brentwood-based Hobby Express (fka Hobby Lobby International) to North Carolina-based Carolina Custom Kits, on undislosed terms.
During the VNC interview last week, Cleveland laughed as he acknowledged the fact that many people in Nashville know him as the "the sock guy," overlooking the fact that prior to Swiftwick he spent two decades in several segments of the Transportation sector, learning firsthand the operational and tech needs of logistics outsourcing, supply chain and payments technology, operations and more. His LinkedIn profile includes a rack of honors and awards, right here.
In 2017, he announced he was planning to create a new Stanza Hotel Nashville, with services including transportation amenities. He told VNC today the project remains active, but is "just getting less time and attention." He added that the Stanza project was among factors that spurred his thinking about innovative approaches to mobility for hotel guests.
Cleveland has two daughters in college. He and his wife, Jenny Pruitt Cleveland, reside in East Nashville.
Note: Although Uber, Lyft, Amazon and others are taking steps to make their rides and deliveries "carbon neutral" in various ways, VNC research suggests that, at this writing, the Hytch Rewards transit model is an original. Of course, related commercial, academic and scientific research into such innovations continues, around the globe (e.g. from NCBI). VNC
. lasted edited 1514 13 Sept. 2018
---