Founder Patrick Widen describes the first EYES|ONLY offerings from his Blend LLC startup as amounting to "lifestyle espionage," a way to get premium perqs delivered with a touch of what feels like "magic."
Widen, a 21-year-old Vanderbilt University undergrad, says his immediate goal with EYES|ONLY is to provide merchants, institutions and others a way to mark-up, rather than discount goods, services and privileges they sell with the aid of social media.
Nashville's hospitality bars and restaurants are Widen's initial merchant target, with other categories and other U.S. cities among planned sequels, said Widen, who was recently recognized as a finalist in the NEXT Awards entrepreneurial competition sponsored by the Nashville Area Chamber of Commerce and the Nashville Entrepreneur Center.
As reflected in the sleek tones of the EYES|ONLY website that Widen created, consumers targeted for membership are generally in the 18- to 35-year-old category, with above average income. The tightest focus is on those age 22-30 with incomes $70K-150K per year, a group that "skews male" and which is prepared to spend extra for a memorable, if not singular experience in dining, travel or other pursuits, Widen said. EYES|ONLY encourages its consumers to "feel like James Bond, without the danger," he added.
BLEND LLC
Widen is to some extent selling against Groupon, which drives bargain-hunters toward businesses that offer deep price reductions, he explained. "We're the opposite of the daily deal," in that it helps sellers connect with "experience seekers," rather than "deal-seekers," the company says in promotional material.
Consumers pay premiums of 50-100% for goods and services delivered under the EYES|ONLY banner and Blend reaps half of whatever premium is charged by the provider. No offerings are "ludicrously expensive" or illegal, and all offerings are subject to EYES|ONLY's prior approval, Widen said when asked about those matters.
Widen performs all the company's tech functions at the moment; he has sunken perhaps $10,000 in the business, he said. Blend may raise capital within the next two years, but only if EYES/ONLY's momentum demands it, he continued, adding that he believes in the adage, "don't take money you don't need."
Meanwhile, Widen acknowledges that competition looms in several directions. He cites UrbanDaddy, which is already in Atlanta and has national segment-specific services, as well; and, there's UK-based BlackTomato; and its siblings, BeachTomato (UK), and Epic Tomato (UK/NYC) for extreme adventurers.
EYES|ONLY provides upmarket customers the "secret" hidden-tier goods and services that enable restaurants, hotels and others to offer concierge-level experiences to customers qualified by EYES|ONLY. EYES|ONLY members access new offers and other privileges by checking-in via Facebook.
Though he is almost exclusively focused on launching EYES|ONLY, Widen said his longer-term objective for parent Blend LLC, roughly defined, is to offer strategic brand development and design services for all manner of businesses, using techniques that are, he explains on his site, drawn from neuroscience, psychology, sociology and other fields "to better understand the people we create for and to help you ignite smarter brands, strategies, and experiences.."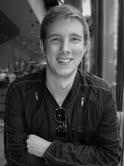 VU Senior Widen
Widen describes EYES|ONLY's amalgamation of disciplines and arts as producing "a service that uses secrets to connect luxury brands to people that will fall in love with them." The "secrets" are goods and services that come with the tweaks or major embellishments one might request for a special occasion -- whether an adventure excursion, a supermodel DJ'ing your party or an anniversary cruise -- if, that is, one knew early-on that the premium offering was available.
While EYES|ONLY is positioned as a high-end service, its model may be used for other consumer segments; Widen is in discussion with a major consumer-services company about filling a different market "gap" they have identified, he said.
Widen will complete his interdisciplinary undergraduate studies at Vanderbilt, next spring. He previously attended the Vanderbilt Accelerator summer business institute at Owen Graduate School of Management.
Widen offered high praise for the encouragement and challenges he received from Accelerator faculty, singling-out David Furse, who continues to coach him in strategic and practical matters; and, Michael Burcham, the erstwhile Accelerator chief who is now CEO of both Startup Tennessee and the Nashville Entrepreneur Center. Blend has no retained advisors at this time, although it previously received some legal services from Waller Lansden Dortch & Davis, said Widen.
Working through iPad-equipped agents he is now recruiting in Nashville and other cities, Widen assists client businesses in re-framing or remixing products and services to provide enhanced experience among customers who are willing to pay a premium for it (e.g., a $10 cocktail with a richer service experience becomes a $15 cocktail, or a "secret latte" comes with special services). The upgraded offerings are not customized for each patron, but are reserved for EYES|ONLY members. He has two agents aboard, now.
Recruitment of members and sales representatives began within the past two weeks, he said. Members access the service using their Facebook registration and their membership is activated via their cellphones. The field sales force and regional managers will be organized and incentivized in a manner similar to that of a multi-level sales organization, he acknowledged.
Blend is now almost exclusively focused on EYES|ONLY, said Widen. After EYES|ONLY gains sustainable traction, he said he is likely to resume broader Blend operations, providing design and development services than span the Web, marketing and social-media, product and logo design, user-interface design, copywriting and advertising. The demonstrated prowess of such companies as Apple, which integrated product, design and user experience to an uncommon extent, provides a model for the longer-term effort, he indicated.
Widen's parents -- father Swedish, mother from Wisconsin -- these days split the year between Tennessee and Florida. Widen is a U.S. citizen, but he lived in Sweden as a child. By age 12, during his family's sojourn on a Swedish coastal island, he began learning about the Internet and computing and beginning to sell related services, he told VNC.
The repurposed national domain extension that appears at the end of the EYES|ON.LY Internet address is that of Libya. Widen said his dealings with .LY administrators were without incident during the turmoil that led recently to the death of Moammar Gadhafi. VNC