TENNESSEE returnee Van Simmons aims for his ComputeCycles mobile software development firm to become widely known as a go-to vendor for Internet of Things (IoT) contracts.
To do that, Nashville-based Simmons said his company must quickly plant its flag high in key industry verticals. Then, it must rapidly amass bankable sector-specific experience in connecting human users, Big Data, computing machines and smartened consumer appliances via the global Internet.
While "feeling our way forward" to develop its business model, Simmons said the company seeks to further penetrate the Aviation avionics marketplace. Then, its scenario calls for expanding step-wise into Medical, Retail, Consumer products and other IoT-hungry sectors.
Specializing in mobile apps and Cloud technology adapted to specific industries represents a "hugely defensible" role, he said. Cisco's view of IoT "megatrend" effects on people, products and processes is here.
Simmons, the company's 54-year-old founder and general manager, has been plying his entrepreneurial, software-engineering and Cloud-related skills in the Boston area for much of the past two decades, but he recently began spending more time in Nashville, where he plans to set up headquarters.
Alabama-born Simmons was reared in Middle Tennessee's Lebanon and Bell Buckle. He began college at Lipscomb University, but ultimately earned his electrical engineering degree in the Vanderbilt University School of Engineering, in 1982. Five years later, he earned his MBA at VU's Owen Graduate School of Management.
In less than a year since its inception, ComputeCycles has reached the $1MM revenue run-rate on the strength of its consulting, with development work projected soon to expand. It has three on-going clients and a team of five FTEs, said Simmons. It has seven prospective hires in its pipeline, none of whom will be hired speculatively ahead of adequate revenue-producing contracts, said Simmons.
Simmons doesn't claim to have pockets so deep that he could or would simply throw money into the pursuit of growth. He said he is "extremely conservative" and unlikely to consider taking outside capital to fund growth, until, perhaps, the company has essentially bootstrapped its way to sustainable independence.
"I've seen too many of my friends go way too early" for venture capital, he said. So, he's not building the company with its sale in mind. Rather, he said he seeks to build a solid company that provides strong service, values its employees and which ultimately earns a fair premium, if and when it sells.
Diana Vallance
Former Apple and NeXT Computer senior business-development executive Diana Vallance leads the new company's business development effort from her San Francisco Bay Area post. From there, Simmons said, she can easily reach Aviation OEMs or contractors in California and Washington.
Given the Aviation industry priority, planting ComputeCycles headquarters on the West Coast instead of Nashville might have seemed logical.
However, Simmons said a Nashville headquarters is a natural, given his familiarity with the city and its universities; the high-interest Healthcare vertical; Tennessee's hospitable business climate (with no personal income tax); plus, the fact his parents live in nearby Franklin. In addition, the Aviation sector has inherently long sales and innovation cycles, leading ComputeCycles to simultaneously plot its course into other verticals, such as Healthcare, he said.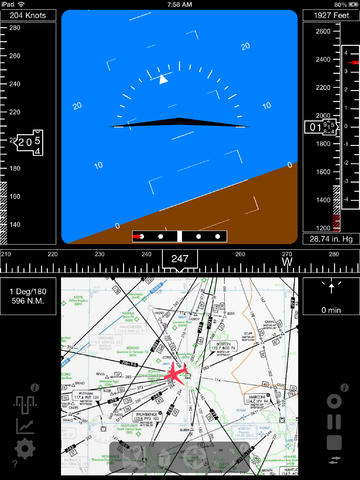 flyTab
ASIG screenshot
The Aviation priority is also a logical extension of Simmons' past three years' work in the sector via his second company, SpatiOS LLC. SpatiOS is a member of a development consortium closely allied with Little Rock-based ASIG (Avionics & Systems Integration Group). ASIG offers the ComputeCycles-developed flyTab Cockpit application, which is a test environment and simulator for ASIG's flyTab avionics platform.
Mobile-app opportunities in Aviation have expanded since 2011, when the Federal Aviation Authority (FAA) approved pilots' use of Apple iPads as an alternative to paper navigational charts, with individual carriers required to meet rigorous FAA standards -- a requirement that helped the market ComputeCycles targets -- as reported by WIRED. FAA guidance effectively opened the field to Android tablets such as Samsung's Galaxy, as well.
ComputeCycles' lessons-learned in the Aviation sector can be repurposed to accelerate development work for clients in others verticals, Simmons confirmed.
By rapidly earning "go-to" leadership status in key verticals, ComputeCycles aims to stay out of the shadow of such competitors as Mobiquity, he said. Three-year-old Mobiquity, a mobile-computing company based in the Boston-area, has raised nearly $25MM in capital and has more than 300 employees. Another player, Jeppsen (a Boeing subsidiary) is a major player in the space.
Simmons also hopes to steal a march on major consultants, such as Accenture, which he believes will eventually establish discrete competitive mobile-app business units. Accenture's numerous IoT references in its 2014 Tech vision statement lend credence to that assessment.
Design: Paul Rand
Simmons has witnessed up-close the evolution of the U.S. software, mobile and cloud sectors.
As in the case of business-development chief Vallance, Simmons' career was influenced by the late Steve Jobs' NeXT Computer, development of which effectively rescued Apple from a downward spiral. A company Simmons previously co-owned -- VNP Software -- wrote and sold applications and software development tools that ran on the NeXT platform. The relationship with NeXT was close enough to lead to talks of what is now known as an acqui-hire, but that did not come to fruit, Simmons said.
Over the years, Simmons has also held management, development and consulting roles in the financial techonology sector, including stints with Invesco, BNP Paribas Investment Partners and Fortis Investments, according to his LinkedIn. His Tech career began as an IBM software engineer.
Asked whether he believes he can grow ComputerCycles from Nashville, Simmons said that while inland startups often find it valuable to maintain relationships within West and East Coast venture-capital and software communities, there is no longer anything preventing Nashville from becoming a "technology hotbed." It is not necessary to have 24/7 access to the software gurus of Silicon Valley, he said.
Simmons said he believes that ComputeCycles can train-up software developers internally. Talented students and others can be brought into ComputeCycles and taught to thrive -- if, that is, they are "hungry" to accept the challenge of starting a business and making a product "that people want to give you money for."
It is true, he said, that there is a "deep" software-development culture in the best development companies, which he and his colleagues believe can be fostered in Nashville. That culture, he said, allows talented people ample room for learning and for making mistakes in the early-going, but quickly demands progress, accountability and results.
Simmons said he has begun visiting Nashville-area universities to explore collaborative partnerships to develop software-development talent.
Advisors to ComputeCycles include Rich Amster, a Boston-area patent attorney; and, the company banks with Bank of America, said Simmons. ComputeCycles is a Delaware-chartered business. VNC