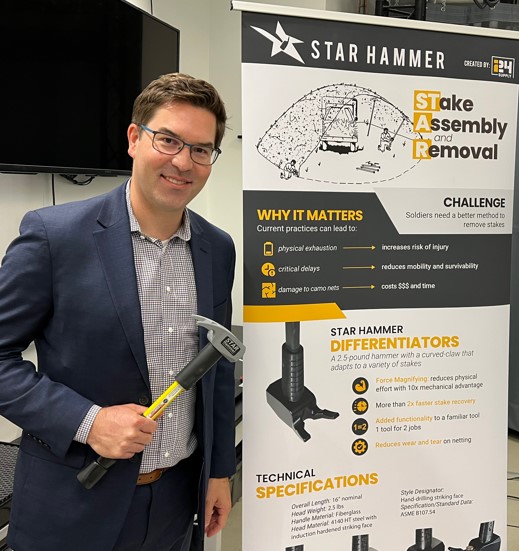 KEVIN GALLOWAY, the chief executive of i24 Supply Company LLC, is so committed to developing and commercializing user-inspired engineered products for Soldiers who need them, he has branded his company after I-24, the interstate highway that connects his home office in Nashville with Soldier-innovators based at U.S. Army Fort Campbell, located an hour's drive away on the Tennessee-Kentucky state line.
Galloway, 41, is a PhD-wielding engineer, inventor and maker, as well as a research assistant professor of mechanical engineering in the School of Engineering at Vanderbilt University.
He told Venture Nashville he expects i24 Supply Company to commercialize a range of products and services that address mainly U.S. Army requirements, thus his commitment to traveling Interstate 24 to and from Ft. Campbell.
Meanwhile, his current priority is around getting a series of relatively small-batch purchase orders for his recently developed STAR Hammer product, in order to get the tool into Soldiers' hands.
The STAR Hammer is a handheld claw hammer -- made of high-grade 41-40 Steel -- that enables Soldiers to more easily remove stakes that have been driven into the ground to stabilize military equipment in the field, including such things as tents or camouflage for transportation equipment and weaponry.
The possible need for such a hammer was vetted in the course of Galloway's collaboration with Soldiers from Ft. Campbell who provided feedback on "human factors" associated with field uses and handling of stakes, as well as feedback that influenced product form-factor considerations.
Such collaborations between Soldiers and university researchers have resulted from federal funding of the Pathfinder Project sponsored by U.S. Army Futures Command.
Army Futures Command shoulders a major role in leading U.S. Army modernization, the scope of which effort is described here. An Army release on the purposes of Pathfinder was posted yesterday here.
Galloway, the founder and 100% owner of i24 Supply said he is keeping his next product offering under wraps, until after STAR Hammer gets revenue traction.
He said he believes his license agreement with Vanderbilt for STAR Hammer intellectual property is close to being finalized. On-campus work on the STAR Hammer is complete.
Galloway has thus far self-funded his business, apart from a bit of 3D printing support provided for mockups by Vanderbilt's innovation center.
Organic sales of his initial inventory of the STAR Hammer are his priority, but, later this year, he expects to turn to advisors for discussion of longer-term financing options.
The U.S. is currently his priority market, though the company will in future consider cross-border opportunities.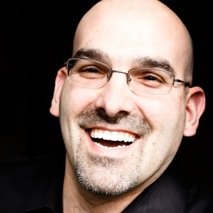 Shawn Glinter
Advisors for i24 Supply include attorneys Jason Epstein of Nelson Mullins and Michael Woolf of Boon Legal; and, accountant Michael Dodd CPA. Galloway noted that advisors made available to him via the Vanderbilt University The Wond'ry Innovation Center have included entrepreneur Shawn Glinter.
Galloway said he currently has a short-run supply of several dozen STAR Hammers, which are base-priced at $299 each, with discounts available for single transactions of multiple hammers.
With pricing established, he'll soon focus on documenting customer demand for STAR Hammer through early sales to Army purchasers who are routinely authorized to make small purchases for individual military units or installations.
Then, he will focus on competing for larger Defense procurement contracts via the Defense Logistics Agency, which is the nation's combat logistics support agency and global defense supply chain manager.
During military drills and operations, staking of equipment and extraction of buried stakes must often be done very quickly, to ensure rapid mobility of equipment and troops, as well as to deter accurate enemy targeting of human and material assets, including headquarters, artillery, vehicles, mortars and aircraft.
Rapid burying and extraction of multiple stakes can be a serious physical and safety challenge for personnel, who may be simultaneously at-risk of being detected and fired upon by enemy counter-battery fire (a continual concern among all combatants in the current military conflict in Ukraine).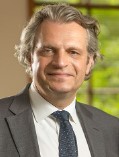 Daniel Diermeier
Galloway's initiative was on display at Vanderbilt earlier this week, when Chancellor Daniel Diermeier and visiting U.S. Senator Marsha Blackburn (R-Tenn.) received briefings on both STAR Hammer; and, on "lift-assist exoskeleton" technology that has been developed by researchers at Vanderbilt, and subsequently commercialized by Nashville startup HeroWear, as previously reported by VNC here and as explained in this HeroWear video.
A Vanderbilt press release on related developments was issued yesterday, Aug. 17, here. A similar release appeared a year ago, during the annual congressional summer recess in August 2021 here.
Senator Blackburn is a member of the U.S. Senate's Armed Services Committee and its Veterans Affairs Committee, bodies that face major deliberations in coming weeks and months.
She and Chancellor Diermeier each signalled that they believe Vanderbilt's work with Army Futures Command and U.S. Space Command is a large and growing priority, around which, as Diermeier put it, there is a real sense of "urgency" within Vanderbilt.

Several weeks before the Senate's August break, the Armed Services Committee's chairman and ranking member filed S. 4543, the James M. Inhofe National Defense Authorization Act for Fiscal Year 2023 (NDAA), bearing an $847BN pricetag, as described here.
During 1999-2010, Galloway earned his bachelor's and his doctorate in engineering at the University of Pennsylvania.
During 2010-2016, the founder was research engineer in the Wyss Institute for Biologically Inspired Engineering at Harvard University. During that same span, as inventor or co-inventor, he made 12 patent filings, resulting in five licenses.
He joined Vanderbilt in 2017. In addition to his professorial duties, he is director of DIVE (Design as an Immersive Vanderbilt Experience), and he has served as The Wond'ry's Director of Making & Prototyping, according to the VU and Wond'ry's websites, here and here, and his LinkedIn profile.
More broadly, over the years Galloway's body of research has involved exploring "new approaches to the design of robotic systems, including rapid prototyping from the micro- to the macro-scale and the use of active soft materials, as well as the manufacture and control of wearable robotic devices."
A native of Washington State, he and Emily Phillips Galloway EdD -- a UPenn and Harvard alumna, and an assistant professor in Vanderbilt's Peabody College of Education -- reside with their child in Nashville. VNC
. last edited 1031 19 August 2022
---