Nashville Technology Council today began its 10th anniversary celebration by inviting listeners to "Feel the beat of technology."
That theme was woven throughout the new NTC strategy presented this morning by NTC President Tod Fetherling, who addressed the group's first annual membership breakfast, convened at The Factory at Franklin.
Fetherling (at right) told an audience of perhaps 250 that the NTC's recent assessment of its brand and identification of strategic opportunities has enabled NTC management to develop a campaign to connect and lead technology constituencies in Middle Tennessee.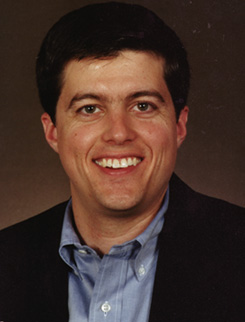 A special guest for this morning's event was NTC Founder Warren Ratliff (at left), who is now chief legal counsel for McKesson Health Solutions, based in Atlanta.

Ratliff recounted for attendees how his efforts in 1999 to launch what became the NTC had met resistance from some quarters in Nashville, including some local business, political and economic-development leaders, who, according to Ratliff, expressed doubt that, among other things, Nashville had a sufficient mass of tech-oriented companies for such a venture. Nonetheless, Ratliff recalled, the NTC's inaugural event in December 1999 drew more than 400 executives, and prompted the former naysayers to climb aboard the NTC bandwagon and eventually become strong partners.

Also attending were NTC Chairperson Beth Chase, CEO of C3 Consulting LLC; Andy Flatt, Chair-elect, and CIO at Healthspring; Immediate-Past President Jeff Costantine, who recently retired; and, David Condra, who succeeded founder Ratliff and who is, thus far, the longest-serving NTC president. Condra is founder and CEO of Dalcon Communications. Former president Ray Capp, who is CEO of ConduIT Corporation, was not present.

Fetherling's declaration represents the clearest assertion yet of NTC's intention to play a broader, central role in the development of a the spectrum of high-growth, technology-driven or -enabled businesses throughout the Nashville area.

As previously reported by VNC, Fetherling has also signaled he aims for NTC to resume its earlier participation in the region's entrepreneurial and venture business sectors.

Perhaps the centerpiece of this morning's program was the unveiling of NTC's new logo, corporate signature and theme. Fetherling said the new brand elements were the result of reviewing stakeholder input and more than 100 logo-design options.

Fetherling explained that NTC's bolder positioning and brand makeover are partly designed to overcome stakeholder perceptions of NTC as "old and stodgy."

He then explained the elements of the logo (above), noting that the blue color is intended to engender trust; the sphere is to emphasize the global reach of both NTC and technologies; and, the yellow pathways suggest NTC-energized connections among businesses and professionals. The design also includes subtle Nashville symbols, such as a music note and a piston or two, a lowkey reference to the region's growing automotive sector.

In the NTC release, Fetherling said, "The campaign will feature the uniqueness of Nashville by helping people feel the beat of technology. In Nashville, we have very large vertical industries where technology is critical to their success. We have a very vibrant creative and new media industry.

"There is tremendous energy and a natural rhythm created when we connect in the tech community," Fetherling continued. "We feel the beat everyday in our music, the heart beat of healthcare, and the beat of pistons in manufacturing. The NTC ties all of our local technology interests together with a common technology voice."
NTC's statement also explained, "The new brand promise for the Nashville Technology Council is to lead in education, innovation, exposure, and connections to the technology community. [NTC's] goal will be to become the voice of technology and our mission will continue to be to help the Middle Tennessee technology community succeed..."
Fetherling told VNC the "brandprint" assessment and planning process he employed during the roughly three months since he officially succeeded Costantine produced the new NTC logo unveiled today, and is guiding development of marketing materials, a new website nearing completion, and a sharper NTC positioning statement.

Also addressing NTC this morning was Scott Downs, a Hewlett-Packard executive who focuses on optimization of business intelligence. He provided an overview of recent and prospective technology developments, underscoring the importance of the NTC mission.
Nashville Technology Council was chartered in August 1999 and is a not-for-profit organization. NTC has about 350 businesses as members, and is allied with the Nashville Area Chamber of Commerce and Partnership 2010, among other tech and business groups. ♦