Noted: Jan. 31, 2021: VU announced Dr. Wente had agreed to begin July 1, 2021, as president of Wake Forest University. July 1, 2020: Daniel Diermeier PhD became Chancellor of VU. On Aug. 16, 2019, VU published an interview with Wente, now Interim Chancellor.-Ed.
ON August 15, Susan R. Wente Ph.D. is due to become Interim Chancellor of Vanderbilt University, succeeding Chancellor Nicholas Zeppos JD, who is to resign in August due to his concerns about his health.
VU Board of Trust Chairman Bruce Evans said during a June 5 campus town hall meeting that Zeppos had "surprised" him in March with news of his plans.
Zeppos plans a yearlong sabbatical prior to rejoining the faculty of the VU School of Law. He became chancellor in March 2008.
As Interim Chancellor, Wente, who five years ago became the first woman to serve as VU's Provost and vice chancellor for academic affairs, is to become the first woman to lead the entire university, reporting to the Board of Trust. She retains her Provost duties, as well.
Venture Nashville's informal research, including interviews with campus actors who spoke on condition of anonymity, suggested that in most, if not all, quarters Wente is viewed as the candidate most likely to become Vanderbilt's 9th chancellor, which would make her the first woman to hold that post.
Our nonscientific sample of opinion also suggests that she is not only seen as having improved trust and engagement between the Administration and the Faculty in recent years; but, she is also seen as possessing the integrity, indefatigable spirit, academic and scientific stature, and authentically collaborative personality that are viewed by many as essential in further advancing the university.
Susan Wente PhD
Provost, Vice Chancellor
Any candidate will naturally face tough scrutiny. Among those with whom we spoke, the "unknowns" mentioned about Wente were, first, how well she'd do when responsible for managing the entire university's fundraising responsibilities, for which she had little direct responsibility as Provost; second, whether or not she is the optimal leader to expand Vanderbilt's role and reputation on the international stage; and, third, whether her popularity and colleagiality as Provost would be accompanied by the degree of charisma that some see as essential in the role of chancellor.
Prior to his appointment as chancellor, Zeppos held an array of provost, academic, administrative and alumni and fundraising oversight responsibilities, as reflected in this earlier biography. Those successful major assignments led to a media report signalling Zeppos' possible rise to chancellor, months it became real.
In April 2014, Zeppos announced, "After an extensive national search, Susan R. Wente, a distinguished biomedical scientist who has served as associate vice chancellor for research at Vanderbilt for the past five years and currently leads the academic strategic planning process across the entire institution, has been named provost and vice chancellor for academic affairs."
In recent weeks, a layman's review of Wente's assignments suggests they have been equally weighty as Zeppos', and too numerous to recount here. See a hint of that in her bio, here. After Aug. 15, she will shoulder two jobs previously entrusted to two people. And, among other things, she's a professor of cell and developmental biology, and head of Wente Lab.
VNC reached out to Wente via email and received a reply from VU Media Relations staff, saying, "To ensure an extensive and comprehensive search, the Search Committee has noted that individual candidate names, either internal or external, will be kept confidential."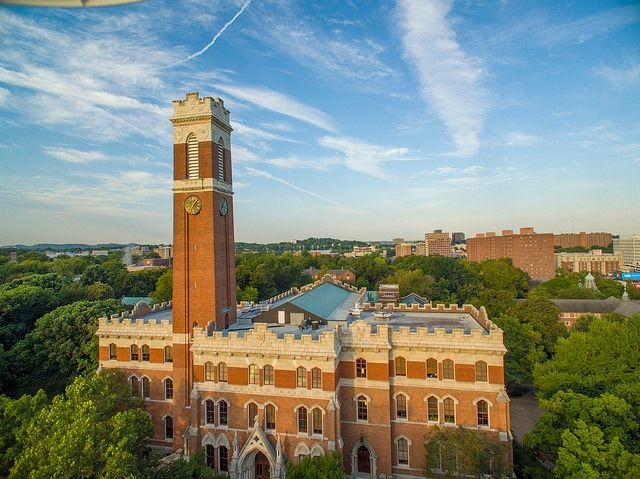 Kirkland Hall, VU
Perhaps each successive Vanderbilt chancellor has faced something like 'the best of times, and the worst of times'. Whereas Zeppos assumed the mantle in 2008 in the midst of the tumultuous Great Recession, the next chancellor faces an array of socioeconomic, policy and cultural forces that often seem intimidating, and at times downright withering.
Optimally, said Evans during the town hall, selection of Vanderbilt's ninth chancellor will be completed early in Winter 2020. That would be 147 years after Vanderbilt's founding.
Evans said he sees as enormous the challenge of filling "the big shoes" Zeppos has worn with someone who will be "as successful a long-term leader" as Zeppos.
Perhaps it's simply stating the obvious, but more than one source VNC interviewed emphasized that Vanderbilt must "get it right" regarding its next chancellor, if the university is to maintain the momentum it has gained in the past decade.
With such ends in mind, earlier this year BOT Chairman Evans established and began to chair the Chancellor Search Committee, which includes 15 persons. In June, Evans said that committee would operate at a relatively "low boil" this summer, mainly considering some potential recruitment targets.
Dean John Geer PhD
(John Russell/VU)
A Chancellor Search Advisory Committee of 19 persons has also been created, chaired by John Geer PhD, who is Dean of VU's College of Arts & Science, as well as co-director of the Vanderbilt Poll.
Several weeks prior to Evans' remarks, and with no prior knowledge of the impending town hall, Venture Nashville had reached out to Dean Geer, not for comment on the chancellor search process, but for Geer's sense of what traits went into Zeppos' heralded success.
Here is a verbatim of that exchange with Geer:
VNC: How do you describe the shift or evolution in VU's style of engaging with on-campus constituents and with the Nashville community and beyond, during the Zeppos Years and/or during your 24 years on campus?
Geer: Chancellor Zeppos saw the need for Vanderbilt to engage more with the broader community and made it a priority. Those efforts have paid off in many ways, enriching Nashville and the surrounding counties in countless ways. It is also clear that the community better appreciates the many contributions of Vanderbilt's staff, faculty, and students.
VNC: Which elements of the Vanderbilt University ethos, culture or related traditions seem most important to preserve, which remain problematic and what role in addressing these matters is the next Chancellor likely to play?
Geer: The next Chancellor has very big shoes to fill. But fortunately Vanderbilt is in great shape and our next leader will have an opportunity to build on the existing momentum. We have in place a strategic plan that has served the University very well and will continue to provide a critical road map in the coming years. The commitment to making a Vanderbilt education accessible to all, completing the residential college system, building a world class faculty, and ensuring we advance inter-disciplinary work are all now hallmarks of Vanderbilt. It is hard to understate the transformation of the place over the last decade and a half.
VNC: Was Zeppos perhaps a 'transitional' leader, deliberately guiding VU into deeper and ever-more constructive roles with the world around it -- or, was he more likely an honest pragmatist, who recognized patterns, syndromes and opportunities, and charted his course, accordingly?
Geer: Truthfully, Nick Zeppos was "transformational." He saw things few others did and led the University to tremendous gains--even facing the headwinds of the Great Recession. He is one of the true visionaries in higher education.
VNC: In your life experience, what personal traits seem to have enabled Zeppos to "move the needle" at Vanderbilt, and which personality traits or habits of mind loom as most important in VU's next leader?
Geer: He embodies the eight words he offered our 2019 graduates. "Homework never stops," "take responsibility," and "think of 'we.'" He is tireless, cares about others, and always seeks to advance the greater good. It is a powerful combination and with his vision, he has helped to make Vanderbilt the world class university it is now.
Thomas G. Burish PhD
More recenty, on June 16, Venture Nashville raised the 'internationalism' issue with Thomas G. Burish PhD, who is Provost of Notre Dame University.
Burish is a highly regarded former Provost of Vanderbilt University, where he served 10 years, becoming the longest-serving provost yet in Vanderbilt's history. VNC did not ask Burish to comment for this story on the chancellor search.
Asked about the importance of the international factor for universities, Burish said that he believes there is consensus among most leaders of academic institutions that "no university can be a great university in the 21st Century unless it's a global university. You have to be international."
Reinforcing the point, Burish added that approximately 75 percent of Notre Dame undergraduates complete their degrees having earned course credits or completed internships in other countries.
Burish, 69, said he has high regard for Vanderbilt and is grateful for 26 years on the VU campus. He said he has no doubt the university "will continue to climb higher and see farther."
Evans told town hall attendees June 5 that the university had retained Spencer Stuart to support the chancellor search.
Jennifer Bol
The firm is represented by Consultant Jennifer Bol, who also addressed questions from that day's audience.
In addition to commending VU for its "amazing trajectory," Bol said Vanderbilt's recruitment effort it timely, and comes well ahead of a projected "tsunami" of retirements of top executives among prominent research universities, during 2020-30.
She said that by acting now VU will have an early look at "emerging talent" who will candidates for filling those leadership openings.
Bol also emphasized that Spencer Stuart has no bias in favor of either inside or outside candidates, but is committed to ensuring that all candidates go through the identical vetting process.
BOT Chair Bruce Evans
Both Evans and Bol emphasized that ensuring diversity among competitors in the candidate pool is a vital element of Spencer Stuart's mandate.
Further, Bol explained that ensuring candidates having at least some experience in the U.S. academic environment and the attendant "research regime" is often a weighting factor.
Geer told the June 5 town hall that the advisory committee aspires to produce by Sept. 15 an interpretive report on opinion findings related to chancellor traits and Vanderbilt opportunities and challenges gleaned via additional listening sessions and other community engagement, the online poll and other means.
VU plans to make that advisory report "public for all the community."
Geer also said that the new chancellor search will involve "much more transparent a process than it has in the past."
At another point during the town hall meeting, Geer said that the advisory committee's work "does have the potential to be 'grassroots'" to an extent unprecedented.
Input on the chancellor selection decision has been invited from those on-campus and in "the broader community," via a webform here. The form went live in late May and by the time of the June 5 town hall more than 400 respondents had already used it.
Geer said June 5 that search advisory committee is considering holding another town meeting in August, in addition to various online engagement, smaller listening sessions, and more.
Tennessee and the Nashville region have real economic interests in the outcome of the VU Chancellor search.
During FY2016, Vanderbilt University and VU Medical Center combined had a $9.5 Billion economic impact (up from $8.6BN in FY2012); and, during 2007-2016, Vanderbilt awarded nearly 36,000 degrees and certificates (details here and here). VU ended FY18 with $94MM net operating results, up from $70MM NOR year-earlier. The university's FY18 unrestricted operating revenue totaled $1.3BN. Further details here.
Also, as of June 30, 2018, Vanderbilt University's endowment totaled $4.6BN, with total AUM of $5.1BN, the university said.
Zeppos' compensation totaled about $4.3MM in FY2016, including a singular $2.9MM bonus, according to a May 2018 report by The Tennessean. The Board of Trust in 2018 issued a statement on Zeppos' 2016 compensation, here.
2016 was the year that VU and VUMC separated. Zeppos' 2015 compensation totaled about $1.6MM, according to the university's form 990 for that period, filed with Guidestar.
FYI: In FY2015, VUMC's then-Vice Chancellor for Health Affairs and Dean of the VU School of Medicine Jeff Balser MD's compensation totaled nearly $2MM. Balser is now CEO of VUMC. VUMC's 990 for FY2016 shows his total compensation rose to about $3MM that year. VU Medical Center, as of June 30, 2018, reported $813MM unrestricted net assets.
Last month's town hall meeting is streaming here. Follow related VU posts here. VNC
. Last edited 1421 14 July 2019
---