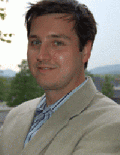 Digital Reasoning Systems, the Brentwood-based provider of advanced data-analytics technologies, yesterday filed with the SEC a report on a $7 million capital raise, involving equity and preferred stock features and showing $2.9 million remaining to raise.
The name of Healthia Systems Inc. was also in the filing. In July, the Birmingham Business Journal reported that Birmingham-based Healthia Systems is a subsidiary of Charlottesville, Va.,-based tech firm Unetworks, and that Healthia would be using "Unetworks' Digital Reasoning technology" to pursue the healthcare data-analytics market.
Named in the filing were founder-CEO Tim Estes, President/COO Rob Metcalf, board member Kenneth Elzinga Ph.D., the firm's general counsel Mark Nafta and John Brennan, whom VNC has not yet identified. Elzinga is the Robert C. Taylor Chair in Economics at the University of Virginia, which Estes also attended.
Attempts to reach DRS management have thus far been unsuccessful. VNC