Capital Confirmation Inc. says that in the past year its revenue has increased "8 to 10 times" over its year-earlier.

According to executives with Brentwood-based CCI, the company's extraordinary growth surge has brought the nine-year-old venture closer to profitability, despite the cost of its expanded workforce and its recent move to bigger offices.

CCI technology helps accountants corroborate the existence of cash balances and other assets reported by respondents during audits. CCI's secure communications network and identity authentication tools enable CCI to conduct a confirmation in hours, minutes or even seconds, compared with the four to six weeks required for doing the same work manually, and with much lower risk of deception.
CCI Chairman and CEO Chris Schellhorn left) and Founder and Chief Marketing Officer Brian Fox (at right) told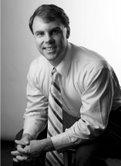 VNC during an interview last week that "6,300 registered accounting firms" and more than 120 financial institutions are now being supported by CCI services, including banks or auditors in the 50 U.S. states and in 52 nations.
A year ago, they said, CCI had about 110 banks and roughly 200 accounting firms onboard. Recent bank consolidations mean there are fewer, but larger financial institutions in the marketplace.

Although they declined to provide details on current CCI finances, Schellhorn and Fox did explain that the company's growth has been driven largely by "mandates" issued by Bank of America, Charter One and Citizens Bank. Each directed auditors to use CCI services. They said further momentum was generated when CCI added its fourth "Big Four" accounting firm as a customer.
Fox registered CCI with the Secretary of State in June 2000, shortly before he completed his MBA at Vanderbilt University's Owen Graduate School of Management.

Fox is a CPA and is himself a former auditor with Ernst & Young and with PriceWaterhouseCoopers. Now 36, Fox and Schellhorn, age 58, were introduced by Fox's former lawyer. Schellhorn had used the same Atlanta-based Alston & Bird attorney during his years as CEO of both Integrion Financial Network and of VISA Interactive.
Keeping CCI on its feet since its inception has required more than $10 million in capital and loans from 132 friends, family, angel investors, CCI employees and venture-capital firm Solidus Co. In addition, Fox, Schellhorn and other equity-holders among the management team went several years without taking salaries.
As Schellhorn and Fox tell the story, the chronicle of CCI's long fundraising campaign is replete with Nashville venture vignettes. For

example, there was exploratory breakfast at Pancake Pantry with angel investor Crom Carmichael. (Both the CCI execs laughingly agreed that Noshville in Green Hills now rivals the Pantry as a dealseekers watering-hole.)



CCI also made the trek to see Sid Chambless, executive director of the then-fledgling Nashville Capital Network, and won investment from some NCN-affiliated angels. During its the early years, CCI also secured a series of low- or no-cost workspaces with the help of such people as Chambless and Germain Boer, director of the Entrepreneurship Center within the Owen GSM.

Nowadays, said Fox, CCI has "enough money in the bank" to enable management to spend more time thinking strategically and making plans for future growth. Schellhorn added, "Now, it's just starting to get to be fun," as the company enters its growth stage.
CCI's longer-term plans may include broadening the menu of confirmations the company undertakes for customers.

Currently, CCI handles "eight to ten" types of confirmations – with debt and deposits probably the most significant. The

company might one day add to its repertoire confirmations of pension-fund assets, investments, receivables, payroll, or other data.

Schellhorn and Fox told VNC that while no new capital raise for such purposes is in the works, capital requirements are regularly discussed with the company's board of directors.
Schellhorn has said in previous interviews that customers would probably prefer the industry to standardize on a single confirmation platform. Thus, it's important for CCI to maintain any lead it has gained through defining e-confirmations and educating the marketplace.

Partly for that reason, Fox said he now spends much of his energy building and maintaining relationships with national professional associations that influence technology adoption within accounting firms and financial institutions. Those groups include the American Institute of Certified Public Accountants, the Public Company Accounting Oversight Board and the International Auditing and Assurance Standards Board.
On another front, CCI is continually in talks with other tech companies that serve the market for e-working papers. One goal is to ensure that friendly technologies can seamlessly integrate or interface with CCI's. Agreements have previously been announced with units of Thomson Reuters (Creative Solutions) and Wolters Kluwer (CCH); and, with CaseWare International, among others.
Next, with security a growing concern globally, CCI began four years ago conducting exhaustive internal security audits of its operations, employing Statement of Auditing Standards (SAS) 70 methodology; and, testing against AICPA SysTrust systems and criteria for systems reliability.
CCI also works to patent and protect its intellectual property. The company's CONFIRM™ tech engine is patented, and the company has applied for other patents.
There is further evidence of CCI's resolve to protect its foothold and reputation in the electronic-confirmations industry: In
May, CCI filed a lawsuit in U.S. District Court here against Auditconfirmations LLC, alleging that the Denver-based company has misrepresented its products and its clientele, and accusing the defendant of attempting to damage CCI's relationships with CCI customers. Auditconfirmations subsequently denied the allegations and has filed for a change of venue, asking the case be moved from Nashville to Denver. That petition remains before the court.
Meanwhile, growth is shaping CCI: The company's workforce now includes 22 full-timers, including nine working at Del Rey Beach, Fla. Here in Brentwood, CCI recently signed its first prime office lease, for 5,000 square feet at 214 Centerview Drive. The office is twice the size of CCI's former space.
Also, even though it's furnished almost entirely with furniture salvaged from shuttered firms like Plumgood Food, CCI's new digs are a step up from the series of low- or no-rent spaces the entrepreneurs have occupied over the years – including the garage at the home of Fox's grandmother.
Given the current business climate, neither Schellhorn nor Fox claims CCI is "out of the woods." However, Fox said he believes the economic downturn has had little, if any net adverse effect on CCI's sales. He said government regulation and general wariness seem to have produced greater attention to due diligence and audits – and have left most executives less comfortable doing business "on a handshake and a smile."

To help keep the threat of massive fraud uppermost in the minds of prospective customers, CCI has long maintained on its website a list of major frauds involving confirmations.

From incidents involving HealthSouth and Revco, to fiascos like Parmelot and Grant Thornton, major players have lost hundreds of millions – losses CCI contends could have been averted or mitigated by using e-confirmation.

CCI says it has performed about 500,000 confirmations to date. CCI estimates using e-confirmation saves CCI clients nearly $100 in costs, per confirmation. ♦