On Sept. 22, HealthStream and Quorum announced a new alliance that should heighten synergies between HealthStream's e-learning and research divisions and their new partner. Our story as originally posted Sept. 10:
The key analyst following HealthStream says he needs more good news before he awards the company's management team an "A."
VNC conversations with that analyst and management make clear that while HealthStream has made large strides, the analyst thinks HealthStream needs more focus and bigger earnings.
HealthStream (NASDAQ:HSTM) recently clocked-in with first-half revenue up 15 percent to $28.2 million, and first-half net income and earnings per share that more than tripled over year-earlier, to $2.6 million and 4 cents, respectively.



Those gains contributed to a "Buy" rating on HealthStream from from Noble Financial Group Senior Equity Analyst Vince Colicchio.
Florida-based Colicchio recently told VNC, "I rate the overall management team a B. To get an A they would have to demonstrate strong execution for a lengthy period of time. They have just recently, over the past few quarters, been achieving their growth objectives each quarter."
While Colicchio has dutifully recorded HealthStream's recent uptick, he told VNC that the company's diversification into healthcare research was "not a great decision" and "until recently [that decision] didn't pan-out too well."
He listed among drags on earnings an inadequate product mix and a technology platform that until recently was not "where it needed to be." He said firmly he believes "a lot of investors" have been disappointed over the years with the company's results.

Colicchio is the only analyst who routinely covers HealthStream stock at this point, with Nashville-based Avondale Partners being the most recent to drop coverage.

Asked about the fact that he has issued a "Buy" signal on HSTM, but has questioned the company's fundamental strategy, Colicchio said his latest research report "was an update on the quarter, it was not the place for an overall questioning of the strategy. Just because I think the research business will see relatively good growth doesn't mean that selling the business isn't a good strategy."
"I think the executive team is a good team," he said, adding at another point, "I expect a bright future for the company," particularly if HealthStream gets "more help on the marketing side."
Meanwhile, Colicchio said he'd probably "like the stock more if it was just a pure learning company," given that he sees HealthStream as the market-share leader in learning, with a now-solid tech platform on which new products can be "layered"; and, given he sees the learning business as faster-growing, with better margins.

In addition, Colicchio said he has not seen much success in cross-selling between the learning and research divisions, though such synergies have clearly been on management's radar.

Asked whether he thought HealthStream should consider spinning-off its research business, Colicchio indicated that even though the pain of integration has abated, the option might well bear consideration.

Management, meanwhile, has repeatedly stressed the company intends to continue on its current path, marketing both businesses aggressively.

The latest financial data and the fact that the company is fast-approaching signing its 2 millionth contract subscriber for learning services seem unlikely to weaken management's resolve.
Colicchio continued, noting that HealthStream's slower-than-desired ramp-up of sales of Competency Center services has taken "longer than expected"; and, its average revenue from current learning-center customers is "relatively small."
During a July call with analysts, HealthStream Founder, Chairman, President and CEO Robert Frist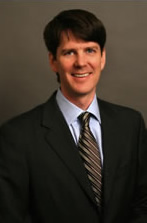 (below) acknowledged that "meaningful" Competency Center revenues have taken longer to generate than earlier expected, but he reasserted confidence in the company's strategy and its now-stabilized infrastructure.
Responding to a subsequent VNC query on this and related marketing issues, Associate Vice President Mollie Condra said the company previously reported it is heavying-up and increasing focus on product development and sales, i.e., in addition to numerous initiatives during the past several years.
In addition, Condra addressed the issue of product complexity, explaining, in part, "You should bear in mind that an implementation of the [HealthStream Competency Center] application is slightly more complex than the HealthStream Learning Center (HLC), our learning platform – and inherently requires more effort and resources from the customer's side than does implementation of the HLC."
Condra continued, "In the process of implementing a competency application, healthcare organizations must expend time in defining competencies for the positions they choose to track in the HCC. Fortunately, the HCC was built uniquely for healthcare organizations and, thus, it is better equipped to assist in this process than other options available in the marketplace. Still, with hospital budgets tight and resources already stretched thin, it is understandable that some would opt for a pilot program as their initial step in such a rollout. We remain very excited about the HCC and our strategy to support healthcare organizations in this important area."
In his July 29 research report, Colicchio attributed HealthStream's gains in large measure to HealthStream Research division's business volume, increased efficiency operating and forecast operating margin.
He also raised the company's 12-month share price target 20 cents, to $4, and offered a 2010 earnings forecast of $12 million. Colicchio reminded VNC that, inasmuch as HealthStream is a growth stock with a relatively low volume of daily trading and market capitalization, the share price – while typically viewed as important within the company – does not get inordinate day-to-day attention from investors and analysts.
Colicchio characterized his outlook as "conservative," and stressed the importance of HealthStream Learning, which has been the core of HealthStream for most of its nine years as a public company, achieving its 64 percent share of the latest quarterly revenue. He also stressed HealthStream Research's progress in integrating The Jackson Organization, which the company acquired in 2007. Also, Colicchio declared his belief that efficiency gains and revenue gains on the research side of the business are "sustainable."
In its own formal statement, July 27, HealthStream management attributed its 2009 first-half performance improvement on both the Learning and Research sides of the company largely to "revenue growth, operational efficiencies, and expense control trends...," with gains only partly constrained by increased costs associated with product development, marketing, sales and other operational items.
Colicchio, a 44-year-old who covers 16 stocks for Noble (with HSTM being the second-smallest he covers), earned his master's in finance at New York University's Stern School of Business and his bachelor's in economics at Rutgers College. He pursued graduate studies in economics at the University of Texas and in Stockholm Sweden; and, he is a Chartered Financial Analyst®. ♦