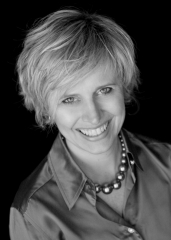 The Cable industry's Stacey Briggs spends much of the year amid a swirl of legislative, regulatory and consumer issues.
With more than 11 years as president of the Tennessee Cable Telecommunications Association under her belt, Briggs is obliged to speak on a moment's notice about a wide range of issues.
Video franchising, digital television (DTV), utilities' pole taxes and industry competition often compete for attention, along with criticism of cable rates, talk of stripping "Girls Gone Wild" promotions from Cable channels and other dust-ups.
When Briggs speaks of her business, her steady gaze, polite tone and her sparing use of a winning smile often provide sharp contrast with her very direct, but calibrated public comments on the toughest issues.
Briggs' ability to navigate policy shoals – winning some issues, losing some – contributed to her being named "2008 Association Executive of the Year," an honor conferred by the Tennessee Society of Association Executives.
The TCTA leadership role is one Briggs would not have today, if in 1997 she hadn't turned down job offers from then-Stokes Bartholomew Evans & Petree, the Tennessee Valley Authority and the City of Mt. Juliet.

Eleven years later, with Tennessee's 106th General Assembly convening next week, Briggs is keeping an eye on this year's emerging legislative agenda.
In an interview with VNC, Briggs shared a report on threats and opportunities that may lie ahead in what the TCTA document describes as "an extraordinary legislative year for the cable industry" that will contain "many challenges and opportunities."
Briggs told VNC she's braced for whatever comes, and will draw on both her "drive to win" and her "drive to 'get it right'," as well as upon more than a decade in Tennessee's legislative trenches.
Briggs, a 42-year-old native Arkansan, sharpened her skills in earlier stints as the North Carolina legislature's enrolling clerk; a policy analyst and in-house counsel for a large industrial park; and, as a contracts attorney with a financial-services company. Also handy: a Davidson College degree in political science and a law degree from Wake Forest University.
Notably absent from Briggs' legislative forecast is any mention of the three-year lobbying struggle that ended last spring in passage of the "The Competitive Cable and Video Services Act."
Even so, Briggs seldom passes-up an opportunity to reprise her talking points from last year's battle with AT&T, and is quick to point to advantages that Cable managed to preserve, despite passage of legislation championed by AT&T and legislators who supported reform as pro-consumer.

An AT&T spokesman said he finds things simpler for his company: In a brief interview Monday, AT&T Spokesman Bob
Corney said that after two years battling over video-franchise laws, AT&T is now focused primarily on rolling-out its new U-verse video service.

Beyond that, Corney said AT&T is merely keeping an eye out for policies and issues that might detract from the "good business environment" he said now prevails in Tennessee. Asked whether AT&T currently sees any threats to that business environment, Corney said, "none that I'm aware of at this moment."

Corney, himself, is no stranger to calibrating comments. He is Gov. Phil Bredesen's former communications director, a former aide for former vice president and presidential candidate Al Gore, former chief of the Tennessee Democratic Party and former spokesman for the Tennessee Pawnbrokers Association.

Indeed, AT&T is doubtless more focused on its competition with Verizon and other providers, particularly given Verizon has surged ahead, at least for the moment, as the leader in the wireless category. Impending wireless saturation, meanwhile, has contributed to analysts' downgrades in both AT&T and Verizon stocks.
In last year's franchising battle, which was intense by Tennessee standards, TCTA and allies including the Tennessee Municipal League ultimately failed in an effort initially aimed at preventing one-stop statewide franchising of video services, in an effort to preserve the Cable industry's incumbent advantage in hundreds of Tennessee cities and counties.
Notwithstanding the outcome, Briggs pointed-out for VNC precisely where in the state's new law the Cable industry believes it bested AT&T and other prospective video providers.
High on her list, for example, is a provision that expressly prohibits red-lining descrimination and requires build-out into underserved areas, possibly including rural and certain urban areas, something she accurately said AT&T resisted as "unnecessary."
In addition, Briggs cited a provision in the new law that, in effect, allows Cable to continue operating with their current levels of payments to municipalities under franchise agreements negotiated prior to reform, rather than being forced in some cases to pay the higher statewide franchise rate.
Briggs also underscored a provision that authorizes municipalities, counties and cooperatives to form "telecommunications joint ventures" (TVJs) with "other entities" (possibly including cable system operators).
That last point may eventually illustrate the Law of Strange Bedfellows: While utilities may yet be the Cable industry's TVJ partners in broadband deployment, for now TCTA, Comcast and Chattanooga utility EPB are involved in protracted litigation related to EPB's buildout of competitive broadband infrastructure and services.
TCTA, Comcast and others have argued EPB is subsidizing its broadband expansion by improperly leveraging the financial capacity of EPB, wherein the electricity business enjoys subsidies. EPB counters that TCTA had read the law incorrectly and in some filings characterizes TCTA's argument as resting on a "conspiracy" theory, in which key agencies and supporters are "lying" about issues. All such allegations are rejected by Cable.
Briggs' legislative assessment cites other flashpoints. For example, TCTA foresees Revenue Commissioner Reagan Farr or

his successor revisiting a partial sales-tax exemption currently enjoyed by Cable; anticipates efforts to increase Cable property taxes to a level near that of AT&T; and, expresses concern about the risk of concessions that might be given wireless and telephone competitors.
The list continues. Another TCTA priority is the association's long-running effort to get relief on pole taxes levied by local utilities on video providers that want to affix their wires to utilities power poles. TCTA believes instate pole taxes are not "fair and reasonable," a situation Briggs attributes, in part, to TVA-supplied utilities being exempt from the Federal Pole Act.
At least as regards pole-tax issues, TCTA sees municipal utilities and rural cooperatives – the same groups that might one day be the Cable industry's TVJ partners – as likely to "resist legislative change to the status quo."

Inevitably, there are racier issues than the pole tax. For instance, Briggs' list includes possible resurrection of legislation championed by State Sen. Doug Jackson, which would restrict cable transmission of promotions of racy videos like the notorious "Girls Gone Wild."
Although Briggs' counterpart, the National Cable Telecommunications Association, takes the lead on most of Cable's national issues, Briggs keeps close tabs on such things as proposals for U.S. broadband infrastructure investment; continuing pressure to allow to subscribe to programs "a la carte," rather than paying for entire tiers of programming; "Net Neutrality" (mainly, whether or not to charge content producers varying rates based on bandwidth consumption); and, a bevy of other issues, including consumer privacy, identity theft and Internet safety.
Juggling work and family demands like most executives, Briggs indicated she finds too little time for such passions of golf and traveling, but places high priority on time with her pro-golfer husband and her 6-year-old daughter, whom Briggs described with a wide grin as "the top kindergartener at West Meade Elementary" and the proud new owner of a puppy named Leo. ♦