Apple Computer Co-founder Steve 'Woz' Wozniak has joined Leadership Music's Class of 2009, a commitment that should bring the Apple inventor to Music City at least eight times during a nine-month period beginning in September.
Wozniak joins 52 classmates, including performing artists, songwriters, label and new-media chiefs, engineers, studio heads, educators, bankers and entertainment gurus.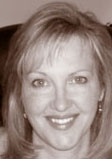 On Friday, Leadership Music Executive Director Kira Florita (at left) explained to VNC that Wozniak learned of LM via personal friends who live here. After observing one of LM's programs and meeting more locals during a private reception put together by LM, Wozniak asked to be included in next year's class.
Joining Leadership Music may be a bit of Wozian whimsy, or it could be an entrepreneur putting his ear to the ground: Wozniak recently joined the board of En2Go International, Inc., a Studio City-Calif.-based development-stage company has said it aims to "a full service entertainment and technology company that will create and develop a variety of media and entertainment related programs and applications including, cutting edge media delivery software, Internet video applications and high-end, innovative desk top applications."
In an SEC filing, En2Go said, "We believe the future of the entertainment and media industry will incorporate a combination of Internet, entertainment and communications, which we refer to as 'En2go!' or 'Entertainment To Go' and we plan to take part in this development by pursuing opportunities in telecommunications as both a development partner to today's leading carriers and as an entertainment solutions provider to major entertainment companies."
Wozniak is best known as the man who designed the first personal computers – Apples I and II. These and other achievements won Wozniak the National Medal of Technology and membership in the Inventors Hall of Fame. Wearing his philanthropist's hat, he also helped fund the launch of the Electronic Frontier Foundation, and continues to push for effective use of technology in K-12 education. Earlier in life, he teamed with Apple Co-Founder Steve Jobs to create a "Blue Box" that would enable users to steal long-distance phone service. Key technology in that escapade included a Cap'n Crunch cereal whistle that created the necessary note at just the right frequency.
However, beyond pure technology, Wozniak has also played the role of concert promoter: Among other entertainment gambits, he created the huge, but reportedly money-losing US Festivals of 1982 and 1983. Total audience for the two festivals was nearly 1 million attendees, including the Moscow crowd that joined the 1982 event via a Space Bridge hookup.

Leadership Music has been low-key about Wozniak's seat in the 2009 class, partly because of the Woz' desire to blend-in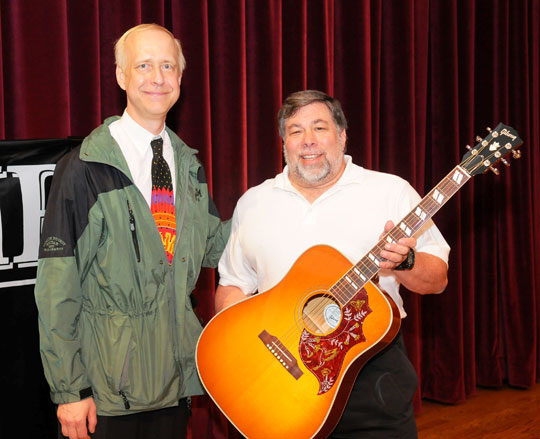 among his classmates and partly because, despite Wozniak's reputation for keeping his promises, of the added challenge of commuting. (At right, Woz received a Gibson guitar from Gibson CEO Henry Juszkiewicz in May, after Woz addressed the 2008 LM class.)

Lowkey or not, given Wozniak's public-service interests and his role at the intersection of entertainment and technology, it would not be surprising to find him keynoting LM's Digital Summit V, in 2009. Summit topics incude changing economics, innovation and the emergence of disruptive technologies. The LM event is cosponsored by Belmont University, the Greater Nashville Area Chamber and others.

Wozniak's calendar stays packed with speaking engagements, partly because of the 2006 publication of his autobiography, iWoz: Computer Geek to Cult Icon: How I Invented the Personal Computer, Co- Founded Apple, and Had Fun Doing It. ♦