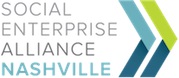 SOCIAL Enterprise Alliance Nashville (link) on July 18 announced eight teams for the 2017 startup training cohort.
For full background on the 5-day program designed to help social-impact businesses become investment-ready, see our June 11 report here.
The classmates are:
Some of the team information presented above was collected via Venture Nashville online research. Updates and changes will be made, as warranted. VNC
.
---