WHEN it comes to pest control, most farmers still do it the old-fashioned way -- scouting the fields on foot to see if plants show signs of blight or infestation.
But perhaps not much longer, if entrepreneur Alex Adams has anything to do with it.
The 25-year-old Bristol native is developing a product called GeoAir. It combines drone technology with DNA air-sample testing that can detect bacteria and fungi before they strike crops, allowing farmers to treat their fields before plant damage begins.
The product-development company that is spawning GeoAir is Adams Innovations LLC, which the founder chartered in 2012.
Adams said his GeoAir offering has gotten legs quickly and he plans to introduce it to the market during the next growing season, which in Tennessee generally begins in 2Q 2018.
He said he is pursuing SBIR funding to help continue product development, and has begun generating some revenue by offering the basic sampling and testing services to farmers.
Adams did not describe scenarios for long-term funding for Adams Innovation and/or its individual products. VNC research indicates Adams has reserved one or more website URLs, but has not yet activated a site.
Asked about formal advisors, he cited attorney David Morehous of Morehous Legal Group.
Adams' journey thus far shows what personal drive, combined with Tennessee's expanding entrepreneurial ecosystem can mean for would-be business owners.
In 2016, Adams won $5,000 in the University of Tennessee's Boyd Venture Challenge hosted by the Anderson Center for Entrepreneurship and Innovation, within the Haslam College of Business.
The same year, he won UT's Vol Court Pitch Competition, taking home $1,500, access to space within the UTRF Business Incubator, sponsors' consulting services and other benefits.
And, in June of this year Adams made it to the finals in the pitch competition of the "36|86 Student Edition Technology Conference" pitch competition sponsored by Launch Tennessee. He is also participating in the inaugural cohort of the Knoxville Entrepreneur Center's AgWorks accelerator, which is partly backed by a partnerships with the Roane County-based Sizzle Techstart incubator and others, according to recent media coverage.
Since then, he's worked closely with experts on the UT Institute of Agriculture campus to develop and test the product in local farmers' fields.
GeoAir drone above corn
This relationship, facilitated by another partner -- Oak Ridge-based Assured Bio Labs, which does DNA testing -- has allowed Adams to prepare his company for product launch on a shoestring, with the help of experts in his target market.
The company has also worked with AgLaunch, a program of Memphis BioWorks and the Tennessee Department of Agriculture to provide resources and guidance to ag-related start-ups in the state.
Adams became interested in entrepreneurship when he developed a consumer hammock with a novel suspension system to sell on the UT campus.
The hammock project led him into a relationship with both a manufacturer and with staff of the UT Anderson Center.
He applied for and received a fellowship with the Center, and soon moved on from hammocks to drones, the enabling technology of his current startup.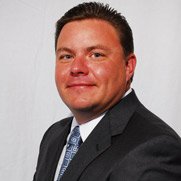 Ed Sobek PhD
GeoAir was born during an interview for a summer internship with Assured Bio, during which Adams and Founder-President Edward Sobek PhD discussed identifying invasive molds by analyzing spore and particle samples collected in the field via drone. Sobek had previously invented novel microbial detection technology.
In the course of talking with Sobek, Adams recalled, "I started remembering how my grandfather, who worked tobacco, was always complaining about blue mold on his crop." He and Sobek soon began exploring forming a partnership to detect mold in agricultural fields.
GeoAir's collection system is being developed initially for corn, with recent tests beginning on tobacco fields as well.
Adams developed the collection system, which uses Assured Bio's cartridge along with their analysis services for the spores collected in the field. Using GPS, the airborne system can created a color-coded map identifying the concentration of the disease in particular parts of the field.
Mold is a big problem, according to Adams, destroying on average one-third of a farm's crops. "When we started looking at the market side, in just the four states of Illinois, Minnesota, Nebraska and Iowa there was about $10 billion lost due to mold every year, and that's just corn," he said.
The technology not only would allow farmers to discover the problem before it takes hold in the field, it would also save them money on treating the problem once it's discovered.
"They would be able to spot treat the mold in the field," Adams said. "Right now they pay $25-$50 per acre per year to apply fungicides. Instead of treating the entire field of 1,000 acres ... you could treat just the sections that test positive for disease."
Although drones are being employed to replace traditional scouting services, existing companies typically use infrared cameras to detect damage to the plants, rather than seeking out fragments of the disease itself, Adams said.
Darrell Hensley, UTIA
It's a promising technology, said Darrell Hensley, extension specialist with UTIA who has worked closely with Adams in development of the technology and matching him with local farmers to test the product. Hensley is an expert in plant pathology and integrated pest management.
Compared to other methods of crop surveillance for pests and disease, "DNA analysis is going to give [a quicker answer] than anything else," Hensley said.
Hensley added that he hopes to compare the system on a cost basis to the traditional and photographic methods of monitoring fields for mold, fungi and even tiny insects such as thrips -- a danger to crops including cotton and tobacco--and ereophyidea mites, which affect a wide range of plants.
"One reason I was interested in this is it's a new technology, and if it can reduce using pesticides, I'm all for it," said Hensley.
After learning details of GeoAir, many farmers have been receptive to it, Hensley said. The system has been tested at farms in Loudon County and on tobacco samples at the UT Experiment station in Greene County.
Naturally, for farmers the bottom line is "How are you going to save me money?" Hensley added.
In 2013, Adams was focused on the innovation of hammocks, and launched his Xada gear line. Xada brought him a share of the pot in the 2013 Boyd Venture Fund competition, according to earlier reports. The Xada website is still up today, but Adams' focus has shifted to GeoAir.
At UT, Adams earned both his MBA (2016) and his bachelor's in Mechanical Engineering (2014). His LinkedIn profile is here. VNC
Larisa Brass is a freelance writer and social-media specialist living in the Knoxville area and is a former reporter for the Knoxville News Sentinel and the Oak Ridger. Her Linkedin is here. VNC E&P Milt Capps helped research this story.
. last edited 19 October 2017 0606
---