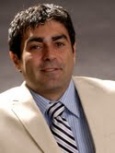 Note: HPA sold to TriZetto in December 2012. Novin's Linkedin is here.-Ed.
Healthcare Productivity Automation (HPA), based in Franklin, needs brand awareness for its Health Mason software, which founder and CEO Novin often likens to "virtual robots."
The problem: Novin knows references to "robots" are disturbing to some.
Novin, 37, explains his advanced Health Mason software is "robot"-like in handling healthcare workflow, including observing and tracking data a human worker would have managed via a computer screen. Health Mason is much more thorough and accurate than most humans, and doesn't take the error-producing shortcuts that humans devise to cope with their workload.
Upon hearing of Health Mason's capabilities, Bill Latimer, a Union City-based investor and philanthropist, became the sole outside investor in the software as a service (SaaS) company, said Novin. Novin was introduced to Latimer by an executive with Arbor Health, an HPA customer, he explained.
After 15 months in business, HPA has "sub-$5 million" annual revenue, with transaction volume increasing each month; and, the company has nine full-time employees, plus nine contractors -- but, no profits yet, due to "reinvesting cash flow," Novin said. The company is not actively planning a capital raise, Novin continued, adding that he is not "at liberty" to comment further on the business, due to competitive and other reasons.
As a growth company, HPA's largest expense item other than employees is sales and marketing, Novin said. Novin noted that he recently visited a prospect within a "very large provider group" in the Midwest who was very impressed with Health Mason, but asked, "Why haven't I heard of you guys?" Novin wants that to end. HPA has retained SS|PR, based in the Chicago area, and Nashville-based Deane Smith Media for communications support.
More established competitors, he said, include OpenConnect Systems (Dallas), Boston WorkStation (Boston Software Sys.) and Pegasys Access (Genentech, Roche Group). Strategics with interest in the sector include McKesson, Microsoft, Trizetto and Ingenix, among others. Novin asserts that no competitor has both the healthcare domain-specific intellectual content and raw technology power of Health Mason.
Many C-suite executives are quick to embrace the idea of software that produces better work plus savings, but it's disconcerting to some executives to think of robots, even "virtual robots" taking the place of human workers.
As HPA's attention-getting product claims begin to register more deeply with the market, awareness should follow. For instance, "Health Mason ES can replicate any manual operation activity performed by a human operator on nearly any operating system or platform. What's more, once it is given a set of instructions, it can outperform an entire department at data entry, administrative, and processing..." The software also performs with 100 percent consistency, with "subjectivity and operator error completely removed from the equation," says the HPA website.
According to Novin, functions being automated would often have been off-shored; in addition, with HPA automation a company's accuracy, speed and efficiency will rise manifold, as HPA tools are allowed to shoulder "commoditized" claims processing tasks and processes. HPA says Health Mason can perform claims-payment and database tasks 30 times faster than they are typically done by hand, with a 99.97% accurate rate.
In the context of contracting-out, Health Mason might be viewed as replacing some "off-shore" or "best-shore" outsourcing partners with software that doesn't miss a beat after the human operators are gone. Software, it seems, may be the "next shore" for outsourcing, though Novin did not use that phrase.
When it comes to integrating software into a client's operations, "the threshold of security for most people to take a risk is high," so a prospective customer's due diligence is extensive, he said. Having Franklin-based HealthSpring, a Medicare Advantage plan, adopt and successfully deploy the technology was a major milestone, he noted.
Novin said he had begun developing Health Mason before launching NPA, while doing business as Novin HPA. Earlier, while Novin was CEO of Linnaeus Inc., a healthcare technology firm, he won the 2008 Nashville Emerging Leadership Award in the tech category; and, in 2009 Healthcare Productivity Automation earned the Nashville Technology Council's Innovator of the Year Award.
Novin's earlier career included performing technology due diligence for Capitol Health Partners, a VC based in New York City, plus stints with OAO Healthcare, Access MedPlus and Sprint Canada. He earned a bachelor's in biophysics at the University of Western Ontario in 1995. Novin began his career in the pulp/paper and telecom sectors, where his work included software development for process automation, data mining and other assignments. His LinkedIn profile is here.
HPA's VP-technology is Igor Kikena. He previously worked as technology director for Linnaeus and in software development for Deloitte Services, TEKSystems (mainly on assignment with HCA) and other firms, gaining experience with clinical, pharmacy, claims payment and other workflow software, according to information online. Kikena earned a master's in computer science at Ukraine National University, in 1996. VNC