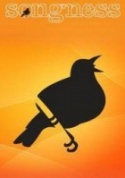 These notes accompany our Songness story.
Despite the skepticism that surrounds most startups, CEO Bill Geissler believes Songness can within three years achieve stature similar to what Pandora enjoys today.
His confidence is largely based on his long-running analysis of the development and launch of numerous U.S. music and social-media sites.
Pandora has more than 65MM registered users, according to a recent report. If Songness works, we should know quickly: Geissler research indicates Songness could, based on precedents, achieve half its eventual user level within six months of its full-scale launch, as was true with Pandora, Last.fm, imeem, SoundPedia, ProjectPlaylist, Bebo, iJigg, Spiralfrog and Aimeestreet, according to a report on the subject provided VNC by Geissler.
Songness intends to capture consumers' payments and loyalty, with revenue coming from advertising (include song sponsorships), retail song sales and research fees. Artists are paid 80% of download proceeds, Geissler said.
Songness employs "micro-targeting" of Indie songs buried in the "long tail" of music available online and makes individualized recommendations tailored to each consumer, according to the document Geissler provided. Although all age groups include heavy-users of online music, Songness says "the core Songness demographic [is] 30-40 year-old fans who buy music online."
The heaviest online-music users prefer independent artists, but those artists "generally don't generate enough data to score well with search and recommendation algorithms," according to the Geissler paper. Mainstream "hit" songs are to be factored-in in producing Songness recommendations, but Indie offerings, rather than commercial hits from established performers are "the center of the equation," according to the report.
In the Songness model, artists and independent labels get their latest offerings rated by fans and some ratings data, without charge. Songness visitors who rate at least one song may download a song without charge. Fans rate songs through Songness' system of what Geissler contends are uniquely powerful audio content filters and more common collaborative filters that harness "the wisdom of crowds" to produce recommendations. Songness users are allowed to play a track twice without buying it. Songs' owners determine each work's selling price.
Other sites noted by VNC in preparing this article included: MySpace, Yahoo!Music, Rhapsody, Bandbox, SoundCloud, Evolver, ClearyChannel's IHeartRadio, PureVolume, Songza, Zune, iLike, MOG, HMV, EchoNest, bigChampagne, PurePlay, ReverbNation, UltimateGuitar and Tesco, to name but a few. VNC