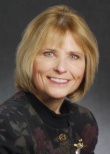 Sandy Cole, the veteran United Airlines technology executive who opted after the 9/11 attacks to stop commuting between Nashville and Chicago, is retiring Friday, after nine years with Metropolitan Nashville - Davidson County Government.
Cole left UA for Metro employment and rose to the directorship of Metro Nashville ITS after a period as interim director, following the resignation of former Director Richard McKinney, who joined Microsoft's government-sector team. She served in the post 26 months. There has been no word from Metro regarding appointment of Cole's interim successor or recruitment of a new director. This story will be updated as warranted.
Cole, 55, earned her M.A. in management from Redlands University in California, and earlier earned her B.S. in aeronautics with major in administration from St. Louis University's Parks College of Aeronautical Technology.
In a 2006 Spotlight interview, Cole outlined then-current Metro ITS projects and priorities.
In December 2007, the Davidson County Election Commission, a state-governed agency, became embroiled in controversy following the theft of laptops from its offices. The laptops were later recovered, with no apparent breach of voters' data. Metro ITS had no responsibility for physical security of laptops in the Election Commission. However, the incident prompted a number of actions by Mayor Karl Dean, including retaining attorney Betty Steele of Baker Donelson Bearman Caldwell & Berkowitz to conduct a security review. ♦