Today: Les Wilkinson of The Martin Cos., Si Deane of Baden and Luke Simons of Council Capital.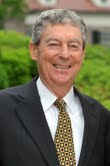 Luke Simons
W. LUCAS 'Luke' SIMONS told VNC he's having loads of fun helping Council Capital's portfolio companies grow their businesses, as a member of the private-equity firm's CEO Council and operating-partners group. After 37 years with J.C. Bradford & Co., Simons was co-senior partner and chief operating office in that firm when it sold in 2000 to Paine Weber, which then sold to UBS. He serves on the boards of the Nashville Entrepreneur Center, the Nashville Convention Center Authority Board and the Frist Center for the Visual Arts; and, he is a longtime active supporter of the K-12 charter-schools movement in Tennessee. Simons has focused on healthcare companies for most of his career. Four times each year, Simons convenes as many as 100 healthcare executives for a private forum with invited healthcare speakers. The speaker forum has been underway without interruption for about 18 years, he said. In recent years, the forums have been sponsored by Council Capital and American Sentinel University (ASU). Simons said his personal venture commitments include investments and advisory roles with three healthcare-related companies: Diatech Oncology (technology to help oncologists determine the best chemotherapy for individual cancer patients); PatientCredit (self-pay patient payment systems); and, Medaxion (anesthesia charge-capture systems). Simons is 76 and was born and reared in Charleston, S.C., and today serves on board of that city's annual Spoleto Festival. (Simons, with one 'm', is pronounced as though it were spelled 'Simmons'.) Among numerous other activities, he serves on the advisory board of Belmont University; and, he is a member of the Society of International Business Fellows, and participated in a leadership program for people from eight former Soviet states. Simons earned his bachelor's in industrial management at Georgia Institute of Technology in 1957, and his MBA at the University of Virginia. After Georgia Tech, he served two years as a U.S. Navy officer, including sea duty. Luke and Susan Simons have three daughters and seven grandchildren.
Les Wilkinson
LES WILKINSON, who turns 41 today, is general counsel and managing director at The Martin Companies LLC, in Nashville's Burton Hills. Though it operates much in the manner of venture capital, it has no limited partners and remains "selective and opportunitistic" with regard to investment opportunities, and seeks to play a strategic role in portfolio companies' progress, Wilkinson told VNC. Current investments include Moontoast, Shareable Ink, ReadyPoint (formerly, DisastersNet), Care Team Connect, and St. Claire Media Group (NashvilleArts), among others. The Martin Companies is, of course, backed by entrepreneur Charlie Martin, the founder and CEO of Vanguard Health Systems (NYSE:VHS). Wilkinson joined Martin's firm more than two years ago, after more than a decade as an attorney and shareholder in Harwell Howard Hyne Gabbert & Manner. The Milan, Tenn., native and his wife have two children and live in Davidson County. He earned his bachelor's at the University of Tennessee in 1993 and his J.D. in the UT College of Law in 1996 (his LL.M.-Tax from the Sturm College of Law at the University of Denver followed in 1997).
Silas Deane
SILAS DEANE, the 45-year-old founder of Nashville PR firm Deane Smith & Partners (originally, Logic Media Group), is taking his other business online: Baden Bath & Supply Company, which sells primarily customized bath and kitchen products. He told VNC he looks to raise $1 million in private investment to help scale-up the 4-year-old Baden business, which projects about $300K in revenue in 2011, after reorienting away from storefront retailing to e-commerce. The goods include sinks, tubs, showers, hardware and materials. Before he founded then-Logic Media in 1999, Deane was an aide to former U.S. Sen. and former U.S. Vice President Al Gore and U.S. Rep. Jim Cooper. Deane got his bachelor's in economics at the University of Kentucky and his master's in business and government administration at University of Pennsylvania. Deane and his wife have three children and live in Brentwood. VNC
Related Articles